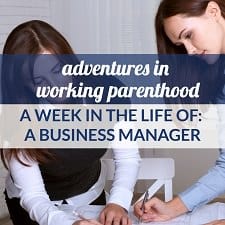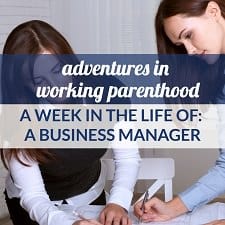 For this week's installment of our Week in the Life of a Working Mom series, I'm happy to introduce CorporetteMoms reader K, who lives in the Boston suburbs with her husband and son and works as a business manager in tech. Our usual caveat applies: Please remember that this is is a real person who has feelings and isn't gaining anything from this, unlike your usual friendly (soul-deadened, thick-skinned, cold-hearted, money-grubbing) blogger — so please be kind with any comments. Thank you! – Kat
If you'd like to be featured (anonymously or otherwise), please fill out this form! You can see all posts in this series here.

First, Some Basics About This Working Mom…

Name: K
Location: Lives and works in a Boston suburb
Job: Business manager in tech
Age: 32
Hours worked in a typical week: 35–44
Home Situation: I live in a 2,500-square-foot house with my husband (engineer in biotech); our 9-month old son, C; and our cat.
Childcare Situation: $1,200/month. We have a unicorn childcare situation: a licensed, in-home provider in our neighborhood who watches C and two other babies his same age. It is essentially a nanny share, but at a fraction of the cost.
We asked K about how she arrived at her "unicorn" arrangement for childcare: 
Mostly by luck, sorry to say, there is no magic secret. We toured several big-name centers, one independent center, and two in-home providers — in our area there is no shortage. I do recommend checking with your state's child care licensing agency when looking for in-home providers, because many do not advertise. That's how we found ours, but it was purely luck that all her kids were "graduating" to pre-K and she was starting with two other babies C's age. And because of mandated ratios, she can't take any more kids right now. We also got lucky that we click really well with the other families and the kids all have similar temperaments.
A Week in My Life
Sunday
5:00 a.m. I hear C babbling, but he's been doing this recently and falling back asleep so I don't even check the monitor.
6:45 a.m. I wake up and enjoy lying in bed for a few minutes before I hear C stirring — this time when I check the monitor his eyes are open. It's like he knows! I nurse him in his room and then bring him back to our bed for some more snuggles.
7:30 a.m. Husband makes the coffee, and I give C his breakfast. C plays in the family room while we read and enjoy our coffee. Husband turns on a cycling race, which I don't mind as background noise.
9:00 a.m. C goes down for a nap, and I head out for a run. Husband works on our taxes while watching his cycling race.
9:45 a.m. I get back from my run and take a long, luxurious, hot shower.
10:30 a.m. Husband makes another round of coffees for us. We sit down and do some planning, talking about the week ahead and upcoming travel (weddings, my 10-year reunion). I also go through my work email and plan out my workweek.
11:20 a.m. C is up from his nap, so we nurse and snuggle. C and I have lunch, then I do some chores in the kitchen while he crawls around. Husband lowers C's crib, since he's more and more mobile.
12:30 p.m. The whole family, including the cat, heads outside for some yardwork. I put C on my back in the Ergo while I rake and pull up dead leaves from my garden.
1:45 p.m. Bring C inside for his afternoon nap. Husband goes for a bike ride while I give myself a manicure and watch Netflix.
3:30 p.m. C is up from his nap and husband gets back from his bike ride. After I nurse C, he hangs out with Daddy in the living room watching golf.
5:00 p.m. We go to mass as a family. C is so wiggly and loud now, but he still gets lots of smiles.
6:00 p.m. We stop on the way home for ice cream, because we're adults and we can. When we get home, I give C dinner while husband watches more golf.
6:40 p.m. Husband does bath and bedtime with C. I swoop in at the end to nurse. While husband makes dinner, I start a load of cloth diapers.
7:30 p.m. We eat dinner and then chat while we clean up the kitchen. We watch a little Netflix together.
9:15 p.m. I go upstairs to read, and husband joins me around 10:00 when we turn off the lights.
Monday
5:00 a.m. As is his custom, C squawks.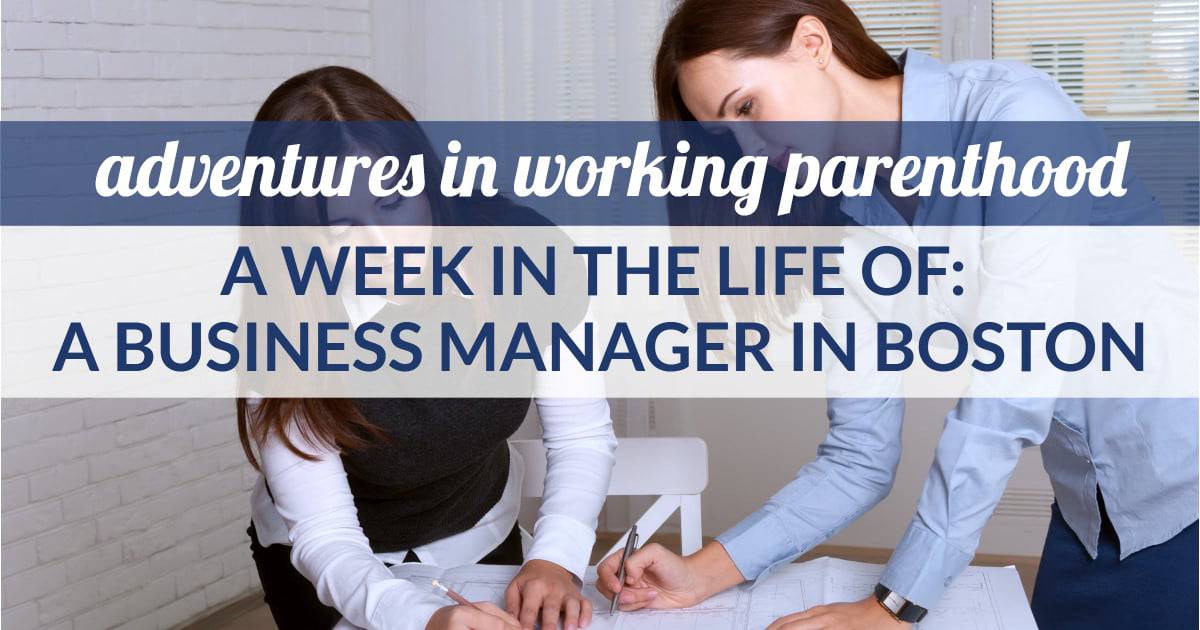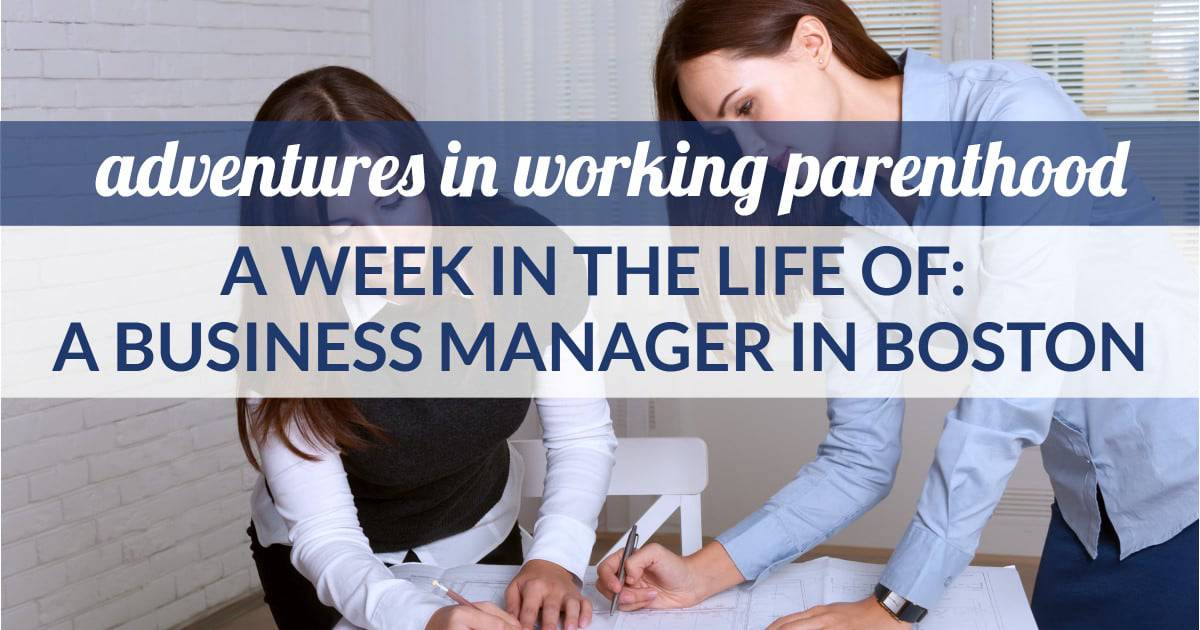 6:20 a.m. I hear C again and check the monitor. He's awake, so I go in and we nurse and snuggle. I get him ready for daycare. Husband comes in and plays with him while I shower. We trade off who is getting ready and who is watching him now that he's mobile.
7:30 a.m. Husband deals with the cat while I give C his breakfast. I pack C's daycare bag, my lunch, my pumping bag, and my laptop bag. Husband makes us coffee, and I take mine to go. Husband drops C off at daycare after I leave.
8:30 a.m. Arrive at work and crank out some edits on a document before my first call at 9:00.
9:00 a.m.–4:00 p.m. I have back-to-back calls and meetings all day, but luckily I get a break for lunch. My husband is working from home today, so he stops by to have me sign one of our tax documents before he mails it in. I am able to squeeze in two pumping breaks, during which I watch videos of C on my phone and read Corporette.
4:00 p.m. Since husband is home today, he's doing pickup too. I get an extra half hour of work!
5:15 p.m. Arrive home, nurse C. Husband stopped at the butcher today, so he's grilling. I give C his dinner and do bedtime.
7:00 p.m. When I get downstairs from putting C to bed, husband has dinner ready. We eat and complain about our respective work days. We chat while cleaning up the kitchen and then relax on the couch watching Netflix.
9:30 p.m. I head up to bed to read, and husband follows soon after.
Here's what K added about pumping at work: 
I don't have an office so I have to decamp to the lactation room, which I currently don't share with anyone. If you have this flexibility, I recommend scheduling your pumping sessions on a daily basis — I check my calendar first thing and look at when would be best given all my meetings, including which meetings I can miss part of to pump, which I could call into while pumping, and which ones I absolutely have to attend. Originally I'd planned to block the same time every day, but I find this works better.
Tuesday
5:15 a.m. I hear the sleepy babbling start.
6:00 a.m. Babbling escalates to whining, so I go in and nurse C. While we shower, we try a new system and put C in a baby containment device. He protests. Husband makes me a coffee and I head to work; he drops C off at daycare.
8:00 a.m. Arrive at the office. I have no meetings this morning, so I can actually catch up on work!
12:00 p.m. Lunchtime yoga! My office offers a free class, which I love.
1:00–5:00 p.m. The afternoon has back-to-back meetings. I have to be late for one because I can't find a good time to pump. As usual, pumping time is my break — I watch videos of C and read on my phone.
5:30 p.m. Arrive home. Husband worked from home again, which was a nice treat, because he did pickup again and he's already started on heating up dinner (leftovers). We eat as a family for once.
6:30 p.m. Husband does bath and bedtime.
7:00–8:00 p.m. I finish up some work on my laptop while husband works in the garage on … some project for the house. I hear power tools.
8:00–9:15 p.m. We relax on the couch together, then head up to bed to read.
Wednesday
6:30 a.m. I wake up naturally, to silence, which is a precious gift. I check the monitor, and C is sleepy babbling but very quiet. He is laying on his side snuggling with his bunny. My heart. I get him up and nurse him, then dress him for daycare. Baby containment day 2 goes much better!
7:30–8:45 a.m. Husband and I work in the kitchen while C plays in his bouncer. Husband often works from home in the morning for a bit, which is why he does drop-off. I have a dentist appointment so I'm doing the same.
9:00–10:00 a.m. Dentist appointment. No cavities. Yay!
10:15 a.m.–4:30 p.m. In the office, working on a technical document and keeping up with email. I have a few calls in the afternoon, but I have no problem leaving on time today to do pickup.
5:00 p.m. Pick up C and head home. Get both of us ready for a run (for him that includes a snowsuit, because it's still so cold out). Just as we are heading out, husband pulls up. I decide to still take C with me because the snowsuit is such a bitch to get on and off.
5:15–5:45 p.m. C and I go for a run. Well, I run, he naps. Husband does yoga in the sunroom and goes in the hot tub while we're out.
6:00–6:30 p.m. C eats his dinner while I do chores in the kitchen — starting on our dinner and prepping C's food for the next week at daycare.
6:30–7:00 p.m. I do bedtime with C. Husband finishes getting dinner ready and throws in a load of diapers.
7:00–8:00 p.m. We eat dinner and chat. Husband watches some TV, but I head up to bed to read around 9.
Thursday
6:00 a.m. Same morning routine as Wednesday, except I'm out the door by 7:30; Husband does drop-off.
8:00 a.m.–4:30 p.m. I have a full day of meetings with a partner on a joint venture. When I step out to pump at lunchtime I see a text on my personal phone from C's babysitter — I forgot to pack his food! Luckily, he's got plenty of milk and babysitter assures me he's happily eating a banana.
4:30 p.m. I duck out of the meeting early to pick up C. I nurse him and field texts on my work phone from coworkers still in the meeting.
6:00 p.m. Meet up with the project team at a local restaurant for dinner. It was a tough but productive day of meetings, so everyone is glad to relax a bit. While I'm at dinner, husband puts C to bed. I admit I log into the Nest to watch him read C a story.
8:30 p.m. Head home. Husband is working on his laptop and watching TV. We chat for a bit, then turn in early.
Friday
6:00 a.m. Another early day in the office, so I'm up at 6:00 and out the door by 7:30. At least today I remember to send C's food!
8:00 a.m.–4:30 p.m. Meetings again. In the morning we have internal meetings and in the afternoon the joint venture partner comes back for presentations to management. I manage to squeeze in an hour of catching up on emails before I leave to pick up C. It's a stressful day, especially following yesterday's marathon meeting. As usual, pumping is my only break!
4:30–6:30 p.m. I play with C for a bit, feed him dinner, and nurse him. I head back out to dinner, this time with my VP and the managing director of our partner company. Yes, it's a Friday night, but it's good networking and the dinner is at an oyster bar I've never been to. Husband does C's bedtime again while I'm at dinner.
9:30 p.m. I get home from dinner, chat with husband for a bit, and read in bed.
Saturday
5:40 a.m. C wakes up howling, so I bring him into bed with us and nurse him. We all snooze for another hour or so. Yay!
7:00 a.m. Husband makes us coffee and pancakes. After breakfast, C plays on the floor while we finish our coffee and read. I start a load of laundry.
8:45 a.m. Time for our weekly FaceTime date with my husband's parents in Florida. C demonstrates his new crawling skills.
9:15 a.m. I take C up to nurse and go down for his nap. While he's napping, I go for a run. Husband is out working in the yard.
10:15 a.m. When I'm back from my run, I do some yardwork while I listen to a podcast.
11:00 a.m. C is still napping, so I enjoy a hot shower and lunch. Husband takes a break to eat with me, then heads back outside to do more yardwork.
12:30 p.m. C wakes up and we nurse. While he plays in his room, I put away his clean clothes.
1:30 p.m. I give C lunch, and then he plays while I clean up in the kitchen. Husband finishes up in the yard and goes out for a bike ride.
2:45 p.m. C and I both go down for a nap!
5:00 p.m Husband gets back from his bike ride, and I get C up.
5:30 p.m. My parents arrive — they try to come see C at least once a week and we take the opportunity to have a date night! C gets some playtime with Grandpa, and then my mom gives him dinner. Husband and I get ready, I nurse C and we kiss him good night. My parents put C to bed while we're on our way to dinner.
6:30–10:00 p.m. We have a lovely dinner while my parents try to stay awake (lol). We have too much wine and pasta, but that doesn't stop us from getting dessert. We talk about going to the jazz club next door to the restaurant but … we're exhausted, just like every day, so we're still asleep by 10:30 even on our night out!
We asked K about grandparents as caregivers: 
My parents moved to be near us, and they are devoted grandparents. My mom has been very involved since my son was a newborn, coming over for a couple hours most days during my maternity leave. She helps out 1–2 nights a week when I'm solo parenting (50% of the time due to husband's travel). My dad still consults part time, so he's less available during the week but will come over on the weekend. I always have the understanding and expectation that they're spending time with C for fun, and that they come over when they're free and it works for them. I didn't choose to have my mom watch C on a scheduled basis because I wanted her to be able to spoil C and be "fun Grandma." Most of the time, my parents will suggest a date and time to come over and from there we decide what to do — sometimes we have dinner together at home as a family and sometimes we will go out while they put C to bed. It works well for us because I always keep in mind that they're not at our beck and call, and they're not our employees. That way I don't set myself up for disappointment (with either scheduling or parenting style).
Thanks so much to K for sharing a bit of her life as a working mom! Readers, what's your biggest takeaway from her week of work as a business manager, as well as her general work/life balance?
Stock photo via Shutterstock / Oleksii Shalamov.