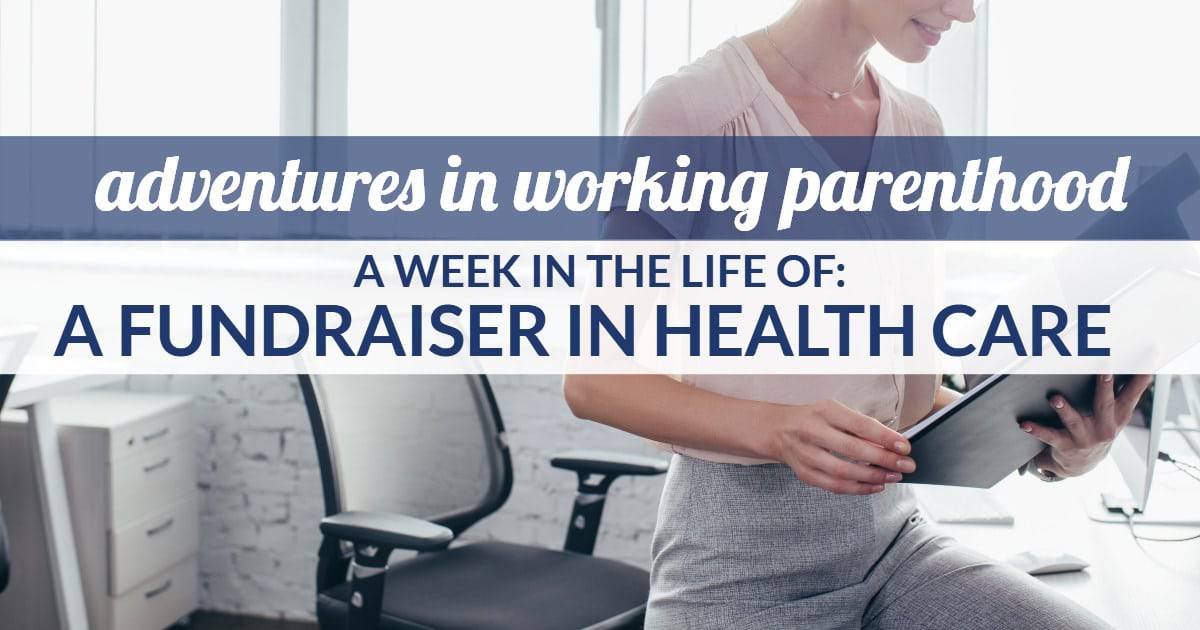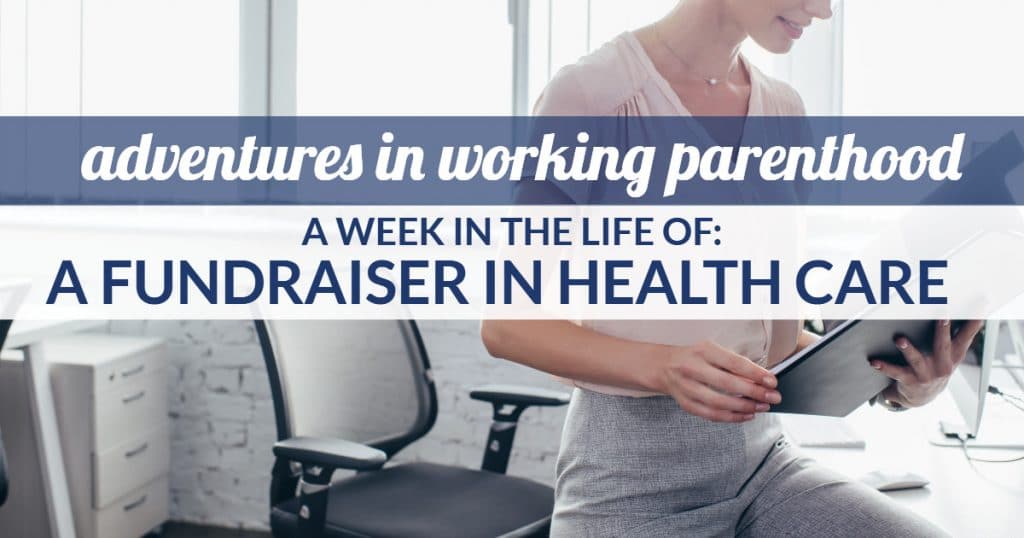 For this week's installment of our Week in the Life of a Working Mom series, I'm happy to introduce CorporetteMoms reader Elizabeth, who lives in Boston with her husband and daughter and was works as a fundraiser in health care. Our usual caveat applies: Please remember that this is is a real person who has feelings and isn't gaining anything from this, unlike your usual friendly (soul-deadened, thick-skinned, cold-hearted, money-grubbing) blogger — so please be kind with any comments. Thank you! — Kat
If you'd like to be featured (anonymously or otherwise), please fill out this form! You can see all posts in this series here.

First, Some Basics About This Working Mom…

Name: Elizabeth
Location: Lives and works in greater Boston
Job: fundraiser in health care
Age: 32
Home Situation: I live in a 1,600-square-foot house just outside Boston with my husband (36, engineer), daughter (2.5), and dog. We are expecting another baby girl in two months.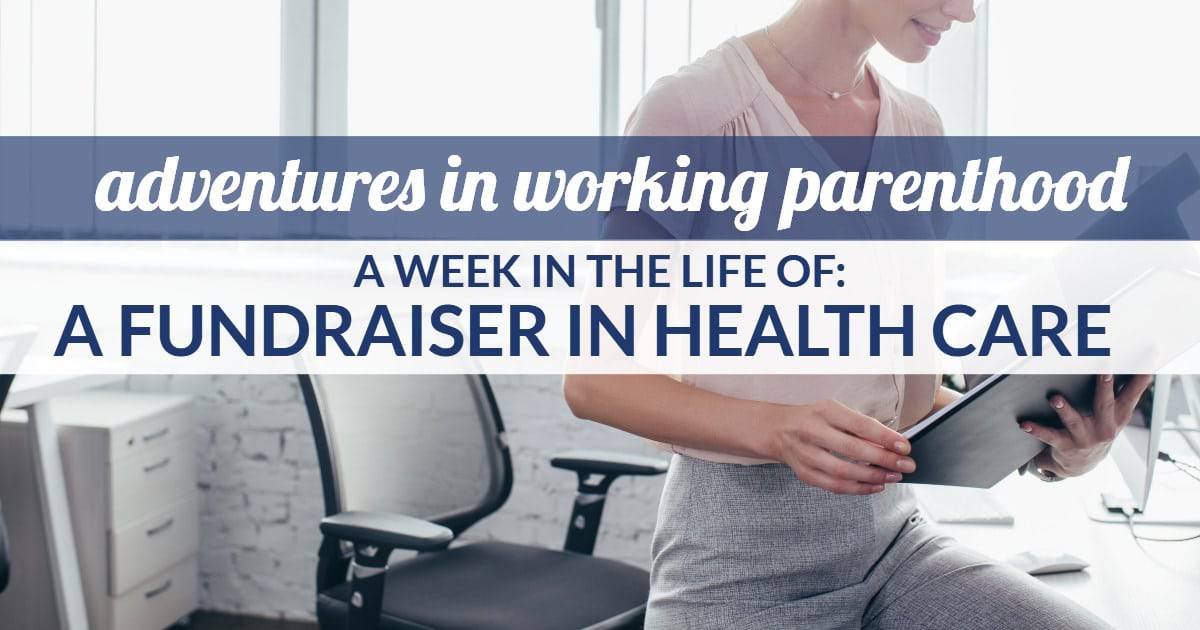 Childcare Situation: Our daughter has been in the same daycare center full time since she was 13 weeks old. Baby will begin in the infant room at the same center after my maternity leave. The total for both kids will be around $3,600.

A Week in My Life
Sunday
6:30 a.m. My husband gets up to walk and feed our dog. I check the monitor and see that our daughter is up, so I go in and change her diaper (we haven't attempted potty training yet, and won't until after the baby is born) and get her dressed.
7:00 a.m. Convince husband to make a Starbucks run and he returns with iced coffees for us and a breakfast sandwich for our daughter. We let her watch a favorite show while we relax with coffee and breakfast.
8:00 a.m. I love a freshly made bed, so I wash our sheets every weekend. We don't use flat sheets — only fitted and a duvet or quilt — so remaking the beds isn't too much of a pain. I strip the beds, put fresh sheets on (we have two sets for each bed), set the wash to run, and take a shower.
9:30 a.m. We make an outing of going to Home Depot and then the grocery store. Daughter loved walking and browsing the aisles at Home Depot, but we bribe her to stay seated in the cart at the grocery store with a snack of crackers.
11:30 a.m. Home and ready for lunch. I put together a simple plate of fresh bread with cheese, peach, and carrots for our daughter and me; husband has a bowl of cereal.
12:00 p.m. Our daughter just started sleeping in her big girl bed/room a couple months ago so that we could free up our nursery. She goes down easily for her nap today (yay!) and looks at books before falling asleep. While she naps, husband and I watch TV on the couch. I also finish up the laundry and re-make our bed while he spends some time doing a little yard work.
1:30 p.m. Daughter is up from her nap.
2:30 p.m. We decide to go to out for burgers and shakes for a super-early dinner. Daughter will only eat some fries, but that's fine with us. We enjoy our indulgence fully!
4:00 p.m. I request that we stop into Target for a couple items. Daughter wants to walk/run around instead of sit in cart so I get what I need quickly.
5:00 p.m. Home and relaxing with some music and playtime. We also FaceTime with my in-laws. Husband and I are all set, but daughter needs dinner so I make her some chicken nuggets with extra for her lunch tomorrow. We let her watch a movie while we're in the kitchen.
6:30 p.m. Bath time and books.
7:15 p.m. When we transitioned our daughter to her bed, one of us would lie with her for 10–20 minutes each night to get her settled but would leave before she fell asleep. We realized this was not working when she would get settled but then upset when we'd go to leave (and we didn't want to create a habit of lying with her until she fell asleep), so we stopped. She fusses for a few minutes when we say goodnight — always asking for more songs and books — and I try my hardest not to go back in. By 7:45, she's asleep.
7:30 p.m. Finish up chores downstairs — run Roomba (a nightly occurrence and a lifesaver), finish making daughter's lunch in a fun (for me) new bento box, set dishwasher, tidy up kitchen and living room. I have a snack of more peach and some chocolate caramels.
8:00 p.m. I am a textbook introvert and need some alone time to recharge at the end of the day. Husband watches TV in our living room while I re-watch The Office for the thousandth time in our bedroom, online "window shop" on my phone, and lie with my pregnancy body pillow. Like most nights, I'm passed out by 9:30.
We asked Elizabeth how she feels about the transition from one child to two:
A solid mixture of excited and nervous. Both because I have an idea and no idea of what is to come. The best advice I have heard is that the second time around, you can/should truly appreciate each phase because you know that they pass and that they are only that age once — so try to enjoy every minute, good or bad. And hopefully the experience of how to take care of a newborn will come rushing back! We are pretty certain that this is our last baby so I feel really emotional about all the "lasts" and never being pregnant again. I think my daughter will be a great, loving big sister and I can't wait for her to meet her little sister.
Monday
5:30 a.m. Alarm goes off. I shower first thing while husband walks and feeds our dog. I wash my hair 1–2x/week at night, so I just take a body shower and do my quick makeup routine. I put on a robe until it's time for me to get dressed.
5:50 a.m. I'm downstairs making lattes with our Nespresso machine and milk frother (one of our all-time best purchases!). I unload the dishwasher while I make coffee. Husband returns with our pup.
6:00 a.m. We sip our lattes and watch the local news on the couch.
6:20 a.m. Husband makes a family-sized smoothie with Greek yogurt and frozen banana, mango, berries, and spinach. I used to be the smoothie chef until our daughter was born and I was nursing her during this time, and so husband took over. After he has his smoothie, he gets ready for the day.
6:30 or 6:45 a.m. If our daughter isn't up yet, I wake her up and get her dressed for the day. She comes downstairs and has her smoothie (she is a picky eater but thankfully LOVES her smoothie) while watching Sesame Street.
7:00 a.m. Husband and I do a handoff — he is now downstairs packing up for work and hanging with daughter while I go brush my teeth and get dressed. He takes our dog out quickly to potty and is out the door for work by 7:15. He drives to a parking garage and takes public transit the rest of the way to work.
7:20 a.m. Daughter and I are out the door on the way to daycare, which is very close to our house.
7:30 a.m. Daycare dropoff.
7:40 a.m. I am on my way to work. I have a "reverse commute" away from the city center, but it still takes 30–35 minutes each way. It's a bit less today because summer traffic is thankfully a breeze!
8:15 a.m. Settle in at my desk. I have a few high-priority deadlines in the coming weeks, plus I am putting my maternity leave plans into place, so I am feeling a bit of pressure. I work best under pressure, though.
11:00 a.m. I am an early lunch-er and usually eat at this time. The Bachelorette finale is on tonight and I want to be able to stay awake for the whole thing, so I decide grab an iced coffee and sandwich from Starbucks (this plus my morning latte puts me slightly over the pregnancy caffeine guideline/limit, but I only do this a few times a week so I feel like it averages out).
4:30 p.m. I pack up and leave the office. Sometimes I need to be at the office a bit later, but most days I can leave at 4:30. Husband does daycare pick up and leaves work around 4:30, too.
5:05 p.m. I'm home. I give our dog some love, take her out to potty, and feed her dinner. We send her to doggie daycare a few times a month when she has pent-up energy, but at age 7 now, she does fine relaxing at home all day. Husband (to his chagrin) is the primary dog walker and they cover a good amount of ground each day to make sure she's exercised.
5:15 p.m. Husband and daughter are home. I help her wash her hands (trying to make this a solid habit before baby arrives) and ask what she wants for a snack. They do afternoon snack at daycare but we have found that a snack once she gets home is necessary, otherwise she can get really cranky by dinnertime. She usually picks crackers or Pirate's Booty, and if there is any leftover smoothie from the morning, she will finish that, too. Pirate's Booty is today's pick. I dump it from the snack-pack-sized bag into a bowl and she MELTS DOWN because she wanted it in the bag instead (which of course I'd already put in the trash). We briefly debate fishing it out of the trash (ugh) but ride out the tears instead, and thankfully they are over quickly.
5:30 p.m. We keep dinners super simple. During the cooler months, I like to make pasta and meatballs or another more labor-intensive meal on Sunday that will provide a couple days of leftovers for the beginning of the week. During the summer, though, that goes out the window. We stick to tried-and-true staples and have them on hand at all times (some combination of breaded and frozen chicken breast, rice pilaf, frozen pizza, pasta, sandwiches, salad, or cut fruit/veg). Tonight, it's "bootleg chicken parm," made with the frozen, breaded chicken breasts and then doctored with tomato sauce and provolone. Husband and I have some arugula with lemon on the side. Daughter is offered the chicken, spinach/potato bites, and yogurt, but she refuses the chicken tonight. We have a couple spoonfuls of Ben & Jerry's chocolate chip cookie dough for dessert.
6:45 p.m. Bath time. I don't work out, but I consider wrestling my daughter in the tub in order to shampoo and condition her shockingly-high-maintenance-hair-for-a-two-year-old my cardio for the day. :)
7:00 p.m. After bath, get daughter ready for bed in our room. She loves to sit on our bed with my pregnancy pillow while watching a few more minutes of TV. We try to have it be something relaxing like Classical Baby on HBO Go. We are pretty liberal with the TV and try not to worry much about it since daughter is playing and learning all day at daycare.
7:20 p.m. Books, songs, and lights out for daughter.
7:30 p.m. Daily prep and clean up downstairs.
8:00 p.m. The Bachelorette begins, and my strategy of extra caffeine during the day keeps me awake through the whole slog.
11:30 p.m. I am still awake, browsing the Internets for reactions on the show. Fall asleep shortly after.
Tuesday
Looks the same as Monday, except for that I have a big meeting/presentation this afternoon. I wish I could have a drink once I get home, but flavored seltzer in a wine glass will have to do. Husband and I watch TV on the couch for a bit. It's a hair-wash night, so I take a shower and blow out my hair before bed.
Wednesday
Wash, rinse, and repeat on another weekday. While getting ready in the morning, I set a load of clothes in the washing machine to run early afternoon and be ready to transfer to the dryer once home. This works great, so long as I remember to make the transfer! I wash all our clothes together, but I like to separate out any nicer tops or more delicate items from a regular dryer cycle. I fish out each item from the wash, dry them on low for a couple minutes, and then hang dry. This ridiculous process means that I must. do. it. myself. I unwind with "Netflix and chill" in our bedroom while husband finishes up some work on his laptop downstairs. We are lucky to have pretty standard hours and don't carry much work home with us. I turn off my work cell when I leave the office and do not turn it on until I return to work. Husband has to do work at home more often than I do, though.
Here's what Elizabeth had to say about her job:
I've been in my current job for a year and a half and in this industry coming up on ten years. Like most: feeling like you can really make a difference to people or to an organization by helping to make a philanthropic gift happen and being in the orbit of some incredible people/leaders. Dislike most: I've found a lot of people don't really understand the industry or what the work entails, and I've always wished I could have a simpler cocktail party "What do you do?" response, i.e. attorney, engineer… but now I just say "fundraiser" and leave it at that!
Thursday
Another weekday gone by. Husband didn't have time to eat lunch today (poor guy), so we decide to order a big pizza for dinner. I have been ordering a bunch of last-minute baby items online, so I open packages before dinner and daughter plays with the boxes. She delights in a purchase of matching pajamas for her and baby sister. I sneak upstairs to organize and put things away.
Friday
Daughter's daycare offers pizza lunch on Friday, so no meal prep was required last night or this morning. Hooray! Husband and I also usually buy lunch out during the week. We used to bring lunch frequently, but once our daughter came along and we were prepping bottles and snacks and lunch daily, we sort of gave up on prepping lunch for ourselves. Luckily we both have cafes in our respective office buildings where we can grab something quickly, and lots of other choices nearby.
Saturday
6:30 a.m. We are up — husband walks and feeds pup while I change and dress daughter.
7:00 a.m. Daughter requests her favorite breakfast sandwich, so off to Starbucks husband goes. Slow morning: We hang out in the living room, alternating between TV, toys, and FaceTime-ing with grandparents. Daughter asks for her bubbles so we also hang out on the front steps for a bit, watching the cars and trucks go by and blowing bubbles.
9:00 a.m. The weather for the rest of the day is expected to be crummy, so we've made plans with friends and their kids to visit a local museum this morning.
11:30 a.m. Head home for lunch and nap time. We give our daughter crackers in the car to ensure she doesn't fall asleep on us.
12:00 p.m. Make easy lunch of chicken nuggets and baby carrots.
12:30 p.m. Daughter down for her nap. Husband and I relax on the couch with the TV while she sleeps. He brings up some baby items from the basement: pack and play, activity gym, changing pad, and Moses basket.
2:00 p.m. Daughter is up. The mirror for her big-girl room is waiting to be hung, so we set her up in her room with the iPad so that we can finalize the spot and I can assist husband in hanging it.
3:00 p.m. The weather makes for a lazy afternoon. We alternate between Magna-Tiles, playing kitchen, and TV. I sneak off to do some more organizing in the girls' rooms. I also start packing my hospital bag because nesting.
5:00 p.m. We decide to order some Chinese takeout. Knowing our daughter won't be interested, I make her some pasta while we wait for our delivery. I make extra to add to her lunches during the week.
5:30 p.m. We eat together at the table. I actually hate eating at the table (I don't know why, I guess I just find it uncomfortable and I'm always antsy to move on after eating), but husband enjoys it and is trying to make sure we do it more often. Dinner is struggle-free so we all enjoy some ice cream together as a treat.
6:15 p.m. Earlier bath time than usual, so once daughter is in her pajamas, we all hang out in our bed and watch Winnie the Pooh.
7:15 p.m. Books, songs, lights out for daughter.
7:30 p.m. Husband and I chat for a bit on the couch.
8:00 p.m. I head upstairs and watch a favorite movie, snuggled with my pregnancy pillow, while he enjoys a beer and catches up on one of his shows downstairs.
We asked Elizabeth how often her family gets to spend time with other families on outings like the one on Saturday:
Thankfully it is something we can regularly do, and it's mostly because we have a few core friends who have kids around the same age as ours. A few are friends from college who live close by; some are other parents we met through our daycare. Since the kids are around the same age, finding a weekend activity to do that is kid-friendly and scheduled at a time that works for everyone is pretty easy. Usually it's a playground or museum meetup or a brunch date or something like that. I find it harder to find the time to see friends when the activity does not revolve around/include kids, since at this stage our weekends are really focused on family time. I've had a few coworkers become very close friends and always relish the opportunity to have a lunch or coffee date during the day, making time for those friendships outside of precious weekend hours.
Thanks so much to Elizabeth for sharing a bit of her life as a working mom! Readers, what's your biggest takeaway from her week of work as a fundraiser as well as her general work/life balance?
Stock photo via Deposit Photos / DimaBaranow.