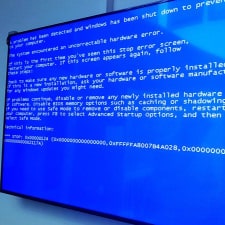 These days, everyone has precious things on our computers: those family photos, that old voicemail from Nana you saved on your computer, the half-finished draft of your novel. Some of it you can save casually in the cloud, sure — but some of it, for sheer size alone, kind of has to live on a hard drive. How do you back up those hard drives? We looked into the best online backup services that keep your stuff safe — and don't require a ton of effort or money on your part.
If it hasn't happened to you personally, it's definitely happened to a friend or family member: Your computer crashes and you lose everything … because you haven't backed up your files. Backing up data is usually pretty tedious and time-consuming — and it's so easy to forget to do — but online backup services make the process much easier and hands-off. Today we're rounding up the 3 best online services for backing up files.
Pictured: The normal time everyone thinks about backing up their computer: when they see the blue screen of death. Credit: Flickr / Blondinrikard Fröberg.
By the way, over at Corporette we've talked about Evernote and other note-keeping apps, the Morphine plugin for Chrome for limiting distractions, and apps for working women, and here at CorporetteMoms we've talked about how to organize family photos and make photo projects.
Here, we compare the popular and highly-rated online backup services Crashplan, Backblaze, and IDrive:
(#1, The Wirecutter; #1, Tom's Guide; Editor's Choice, PCMag)
Here are excerpts from reviews of CrashPlan, which works with Windows, Mac, and Linux:
There's a single feature that puts CrashPlan ahead: unlimited deleted-file protection. This feature, coupled with unlimited cloud storage, provides the most inclusive disaster-protection solution on the market right now. (Tom's Guide)

You have a lot of choices when it comes to online backup services, and CrashPlan ($59.99 per year) is one of the most capable, affordable, and innovative (PCMag)

After carefully comparing 20 services and testing six, we believe that CrashPlan … continues to be the best online backup service for most people, as it offers a great combination of useful features at an attractive (though not rock-bottom) price. (The Wirecutter)
Free access gives you the ability to back up to other computers and external drives, plus 30 days of online backup, and it includes automatic, once-daily backups with 448-bit file encryption. An individual plan is $59.99/year, which lets you back up to other computers and external drives and also have access to unlimited online storage with no size limit for individual files. Instead of the free plan's daily backups, you get backups that are continuous and minute-by-minute (with 448-bit file encryption as in the free plan). You can access files using the CrashPlan mobile app, and you can restore files from any web browser. The family plan, which is for 2 to 10 computers, is $149.99/year.
(Runner-up, Tom's Guide; Runner-up, The Wirecutter)
Here are excerpts from reviews of Backblaze, which works with Windows and Mac but not Linux:
Perhaps the best thing about Backblaze is its ease of setup. When you run the installer, it prompts you to enter your email address and password, but that's the only decision you have to make. (The Wirecutter)

Backblaze is excellent if you're looking for the cheapest online backup option that still offers serious file protection. (Tom's Guide)
An individual plan is $50/year. Like CrashPlan, Backblaze performs continuous backups (not minute-by-minute, though), but it uses 128-bit AES encryption rather than 448-bit. You can back up unlimited files and there's no limit for individual file size. You can download a free restore from anywhere, or Backblaze can ship a flash drive or external drive with your files ($99 and $189, respectively, unless you send the drives back within 30 days), and you can access your files via iPhone, iPad, or Android. Unlike CrashPlan, which saves deleted files forever, Backblaze only saves them for 30 days.
(Editor's Choice, PCMag)
Here's an excerpt from a review of IDrive, which works with Windows, Mac, Linux, or mobile:
It has been one of the more ambitious online backup and cloud-based syncing service services in recent years, offering not only some of the most attractive pricing plans, but also a multitude of features in clear desktop, mobile, and Web applications (PCMag)
Unlike the unlimited plans from CrashPlan and Backblaze, IDrive's options only give you 5 GB of storage for free or, for the personal plan, 1 TB for $69.50. (The first year is $52.12.) It uses 256-bit AES encryption and backs up in real time, but large files are only backed up during the scheduled backup time. You can back up unlimited PCs, Macs, iPhones, iPads and Android devices to a single account, as well as Facebook photos and videos, Instagram photos and videos, and Office 365 files. You can restore files from the desktop application or via any browser. Like CrashPlan, IDrive doesn't ever get rid of your deleted files.
How do you choose to back up your computer files? If you do, how often? Do you use an external hard drive or other local backup, or do you use an online backup service like one of the above? Are you happy with the service? Have you ever lost all your files and didn't have anything backed up?
Further reading: