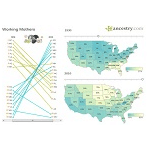 Some of the articles of interest to working mothers that we've seen around the web recently…
The Wall Street Journal's At Work blog takes a look at a new report on working mothers that Ancestry.com compiled from U.S. Census data. One tidbit: in 1860, 7.5% of mothers in the U.S. worked outside of the home.
The Miami Herald shares suggestions from working moms on helpful apps they use to save time and make day-to-day  life a little bit easier.
University of London researchers have discovered that "baby brain" may exist. (MAY exist? Have these researchers been pregnant?), says the Telegraph.
And speaking of baby brain… how about "MOM brain"? Hello Ladies looks at a new findings from researchers in Israel about "invisible tasks."
Hellobee suggests several toys that help preschoolers learn and develop without any workbooks or flashcards.
PopSugar Smart Living rounds up some Mother's Day freebies and deals — from Amazon to Shutterfly to Starbucks.
Make sure to check out this week's news update over at Corporette!
On Corporette Recently…