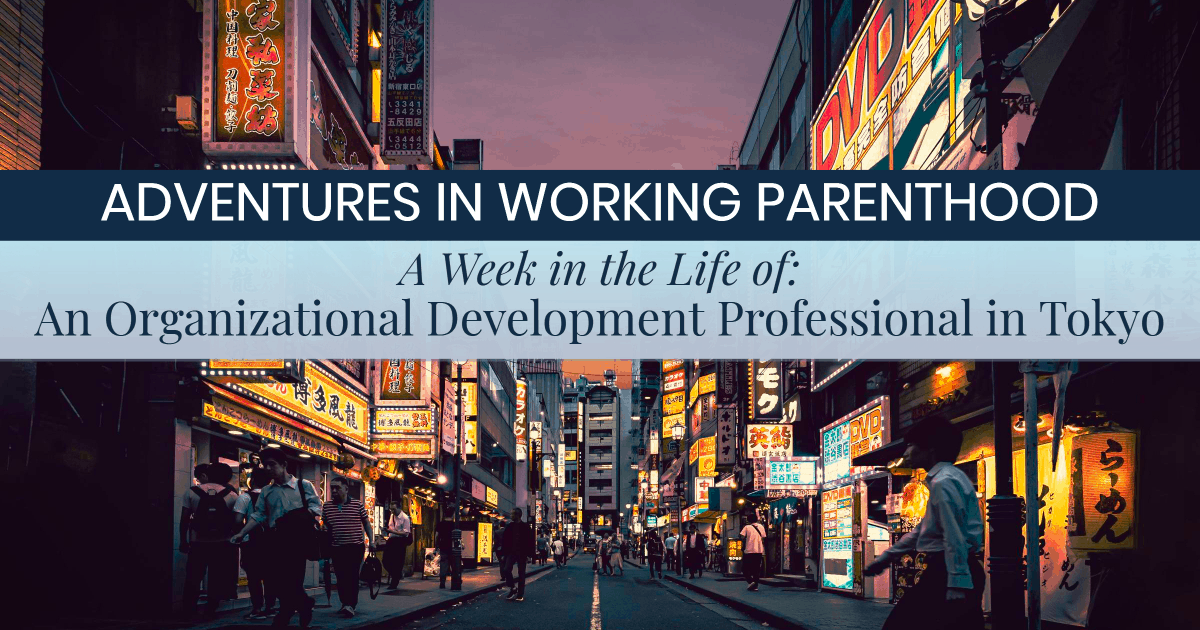 For this week's installment of our Week in the Life of a Working Mom series, I'm happy to introduce CorporetteMoms reader A, who lives in Tokyo with her husband and two daughters and works in organizational development. Our usual caveat applies: Please remember that this is is a real person who has feelings and isn't gaining anything from this, unlike your usual friendly (soul-deadened, thick-skinned, cold-hearted, money-grubbing) blogger — so please be kind with any comments. Thank you! — Kat
If you'd like to be featured (anonymously or otherwise), please fill out this form! You can see all posts in this series here.

First, Some Basics About This Working Mom…
Name: A
Location: Lives and works in Tokyo (from the West Coast originally; have been in Japan for 15 years)
Job: Organizational development for a global consumer goods company (and working on doctoral dissertation)
Age: 36
Home Situation: I live in a 50-square-meter apartment with my husband (in-house lawyer) and two daughters. Kid #1 is six and Kid #2 is three. The kids share a room.
Childcare Situation: Nursery school 50 hours a week for my three-year-old, and school plus after school childcare in the same building from 8:00 a.m. to 6:00 p.m. for my six-year-old. Cost: $300 for two kids (government-subsidized). We also have a babysitter do pickup and watch them until 8:00 p.m. two days a week.
How is the work-life balance in your industry in general? What are common ways of juggling responsibilities that you see your colleagues and coworkers doing?
Work-life balance in Japan in general is TERRIBLE, though thanks to government pressure it's getting a bit better. The most common way my coworkers juggle responsibilities is to work flexible schedules (my company has a really good flex time system). As far as I know, people don't outsource domestic work that much — it's still seen as a luxury in Japan, though that is changing too.
How do you handle household chores, such as laundry, grocery shopping, housecleaning, etc.? Who does what, and when — and how often?
We have a cleaning service come twice a month, and I outsource eight loads of laundry a month to a laundromat that picks up and delivers. Heaven! We also use grocery delivery and Amazon a lot. Amazon has same-day delivery in Tokyo — I can order something on my subway commute to work and find the package waiting on my doorstep when I get home. My husband does breakfast and all weekend cooking.
A Week in My Life
Sunday
Sleep until 8:00 a.m.! My husband has got up with the kids and made scones for breakfast. He brings me scones and coffee in bed. This is amazing. Usually, we both get up with the kids and wrangle them while we try to make breakfast. I don't know what has happened today, but I like it! We spent the next hour or so trying to clean up the apartment, and then go out with the kids. We drop in to our gym to change our membership, and then eat Indian curry with the kids.
After lunch, husband plays with the three-year-old in the park and I take the six-year-old to eat cupcakes. She has just started elementary school, so I am trying to spend extra one-on-one time with her. We all come home around 4:00 p.m. and spend the evening preparing for the week ahead.
We used to spend a lot of time on the weekends doing laundry that had accumulated over the week. But I started outsourcing laundry a few months ago to a laundromat that picks up and delivers. It has made a huge difference in the amount of time we can spend together.
Monday
Everyone gets up at 6:30 a.m. My husband prepares breakfast while I pack the three-year-old's nursery school bags. My older daughter prepares her bag. Japanese schools teach independence from a very young age, so she can pack her own bag, dress herself, keep track of her own homework, etc. I and the kids are of the door at 7:45. My older daughter rides on the bicycle with me while I take her little sister to nursery school. Then I drop my older daughter off at school at 8:15 a.m. After the double drop-off, I ride the subway to work. It takes about 20 minutes. It's not my favorite time of day, because subways in Tokyo are stupidly crowded. But I listen to podcasts and get through.
I work a lot with people in Europe and North America, and they are one day behind Japan. So that means I get very few emails coming in on Monday because those regions are still on the weekend. This is great, because I have time to do intellectual work and plan for the week ahead. I work hard on Mondays, usually grabbing a quick lunch at the office cafeteria.
I leave the office at 5:30, ride the subway 20 minutes, get right on the bicycle, and go pick up my daughters. The house cleaner comes on Mondays while I am at work, so on days when I can leave the office at 5:15, I spend 15 mins sitting alone in our clean apartment before I have to do pick up. It is the best 15 mins of the week.
I pick up both kids on the bike, prepare something quick for dinner, give them a bath. My husband usually gets home at 8:30 and does bedtime. I clean up a bit, book laundry pickup for tomorrow, and go to bed.
Tuesday
On Tuesdays, I get up at 5:00 a.m. and go to the gym. There is a 24-hour gym a few minutes on foot from our apartment, and I really enjoy my morning workouts. I get home about 6:15, and we do the morning routine again. This time, my husband does double drop-off and I enjoy ten minutes of quiet at home (and maybe another cup of coffee!) before getting on the subway.
I spent a lot of time at work finalizing details for a trip to Europe I am taking next week. In addition to the work stuff, I do a lot of organizing of babysitters and housecleaning. My company pays for childcare and housecleaning while I travel. (I go overseas maybe once a month.) It's great, but it does involve some work to organize everything. We use a shared Google calendar to keep track.
Today, the babysitter is picking up both kids and feeding them dinner. So I don't have to be home until 8:00 p.m. I finish work at 6:00 p.m. and I spent a glorious 90 minutes in a cafe by myself doing final edits on my doctoral dissertation. Sometimes on Tuesdays my husband and I will arrange to meet at 7:30 and eat a quick meal in a local sushi place together before we both go back home.
After I get home, it is the usual evening routine. My daughter's nursery school and elementary school provide lunch, so we don't have to deal with that.
We asked A to tell us more about her degree:
It's in sociology. I did all my coursework and fieldwork when I was working a much more flexible job. Now I'm just doing final edits. It's going much more slowly than I'd like — if I just had a month off I could knock it out instead of working in bits and pieces but at least I'm making progress. I do a lot more work on it when I'm traveling for work.
Wednesday
On Wednesdays, my husband gets up early and goes to the gym. I get up at 6:30 with the kids, prepare breakfast, and get everyone ready for the day. Today, I drop off the kids. It's raining, so we have to put rain covers on the bike and I have to make sure to leave extra time to get changed after I come home.
Today is a brainpower-heavy day at work. I am interpreting in a meeting between Japanese management and some of their overseas counterparts, and nobody is saying what they really think. I can only interpret what people actually say, so I spend a good bit of effort trying to get everyone to be honest and say what they really think. This takes a huge amount of brainpower, so I go out around 3:00 p.m. get a coffee and a donut.
I leave at 5:30 p.m. and pick up both kids on the bicycle. Today, I do not feel like cooking so I order delivery. My husband comes home at 7:30 p.m., so he helps with bath and bedtime well I organize laundry pickup.
Thursday
It's the same morning routine. Woke up at 6:30 and out of the door at 7:45. Today my husband does the double drop-off. Our younger daughter has an outing to the zoo, so we have to prepare a special "bento box" lunch for her. She insisted that papa prepares her lunchbox, because his cooking apparently tastes better. Win for me! I hate cooking. My husband prepares the lunchbox while I shower and get dressed.
I have a fairly relaxed day at work, with not too many meetings and nothing urgent. I know that next week is going to be really busy because I am traveling, so I duck out of the office and take a nice afternoon walk around the Tokyo station area.
Today, the babysitter is picking up the kids. I finish work at 6:30 and probably should spend an hour finishing my dissertation, but I don't feel like it. Instead, I go drink a beer in a cafe and read a novel for an hour. When I get home, my husband is already there and he is dealing with evening routine.
Friday
I go to the gym this morning. I get back at around 6:30 and we get everyone fed and dressed and out the door. My husband is working at home today, so he takes the kids.
I have a medium busy day at work but get everything done. At 5:30 p.m., I put the auto-responder on my email, grab my laptop, and leave the office. My husband picks up the kids, and everyone is home by 6:30. He cooks dinner.
After dinner, the kids want to go to the store and buy ice cream for themselves. We are a little nervous, but we agree to let them try. They hold hands and walk to the store. I'm actually following them from a distance, but they don't know that. It's cute to see them holding hands and enjoying their "freedom." My older daughter has just learned how to count money, so she pays for the ice cream herself and looks quite proud of herself.
They come home feeling excited at their independence. They have a little ice cream party, take a bath, then go to sleep. Once both kids are sleeping, my husband and I enjoy a glass of wine and a documentary about some French chef. We usually hate each other's taste in TV, but the one program we can agree on is cooking documentaries.
Here's what A had to say when we asked her about the differing views in Japan and the U.S. regarding kids' independence:
People here believe that kids need to understand that they're members of society and can make a contribution to their families and communities even when they're small. And part of that involves learning to be independent so that you can help other people. Independence and responsibility to contribute and pretty closely linked. I like this approach — I see my older daughter developing into a confident and caring little girl. And it makes parenting a whole lot less stressful! It helps a lot that Tokyo is a very safe city, despite its size.
Saturday
We go hiking. It's pretty easy to get to the mountains from Tokyo. We take the train for about an hour and a half to some fairly easy mountains. My younger daughter struggles a bit but she gets to the top of the mountain. We enjoy a picnic lunch before climbing down, eating ice cream at the train station and getting the train to Tokyo.
I'm leaving on an early afternoon flight tomorrow, so I spent the evening packing for the trip so I can hang out with my family as much as possible in the morning.
Thanks so much to A for sharing a bit of her life as a working mom! Readers, what's your biggest takeaway from her week of work in organizational development as well as her general work/life balance?
Stock photo via Stencil.