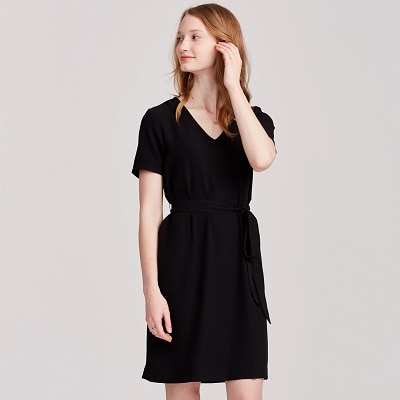 I used to work out before heading into the office, and I always packed a dress in my gym bag. That way, I'd avoid the dread of forgetting half of my outfit. I especially loved wearing dresses during the hot, muggy summer — it felt like I was wearing shorts to work. Since I've been working from home, I've gravitated towards pants (OK, mostly leggings and sweats), and my rainbow of dresses just hang limply in my closet.
Once I head back to the office, I'd love to add Brass' All-Day Dress to my wardrobe. I have a top in the same All-Day fabric, and it truly looks and feels fabulous, well, all day. After the day is done, it can go straight into the washing machine.
I love the All-Day Dress' versatile sash and practical pockets. When I resume my pre-commute workouts, I'll look forward to pulling this dress out of my bag wrinkle free. It's available in three office-friendly colors and a wide range of sizes.
The black version of the dress is $108, while navy and fig are final sale for $85. It's available in XXS–2X depending on the color. The All-Day Dress
Looking for other washable workwear? See all of our recent recommendations for washable clothes for work, or check out our roundup of the best brands for washable workwear.