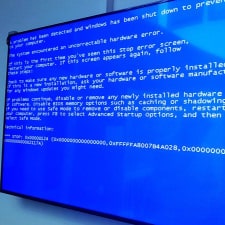 These days, everyone has precious things on our computers: those family photos, that old voicemail from Nana you saved on your computer, the half-finished draft of your novel. Some of it you can save casually in the cloud, sure — but some of it, for sheer size alone, kind of has to live on a hard drive. How do you back up those hard drives? We looked into the best online backup services that keep your stuff safe — and don't require a ton of effort or money on your part.
If it hasn't happened to you personally, it's definitely happened to a friend or family member: Your computer crashes and you lose everything … because you haven't backed up your files. Backing up data is usually pretty tedious and time-consuming — and it's so easy to forget to do — but online backup services make the process much easier and hands-off. Today we're rounding up the 3 best online services for backing up files.
Pictured: The normal time everyone thinks about backing up their computer: when they see the blue screen of death. Credit: Flickr / Blondinrikard Fröberg. 
By the way, over at Corporette we've talked about Evernote and other note-keeping apps, the Morphine plugin for Chrome for limiting distractions, and apps for working women, and here at CorporetteMoms we've talked about how to organize family photos and make photo projects.
Here, we compare the popular and highly-rated online backup services Crashplan, Backblaze, and IDrive: