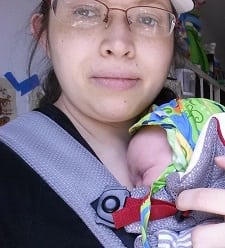 Welcome to installment five of our registry for working moms: babywearing gear! Babywearing is a must for urban moms and other moms who do a lot of walking — but which are the best? What accessories? And where should you find them? We've already talked about carseats and strollers, cribs and sleeping gear, and now: carriers for babywearing. As I've mentioned before, I envision the entire series going through these categories (stay tuned!):
Carseat — necessary from coming home from the hospital!
Stroller — how many have you tried? How many do you keep? (e.g., big stroller, umbrella stroller, jogging stroller)
Cribs and sleeping gear — crib and bassinet rocker, if necessary
Baby clothes — daytime clothes, baby socks
Babywearing carriers — infant and 15-lb.+ options
Baby toys — swings, seats, and other Big Things to register for (Exersaucers, etc)
Essential books
Diaper bag
Nursing clothes
Breastfeeding pillow
And one final category: The Biggest Flops (stuff you hated).
As for babywearing… I nearly included this with my roundup on baby clothes, because what your baby is wearing will definitely affect which carrier you want to use. For my $.02: We received a Boba 3G as a gift and really liked it for both boys once they were over 15 lbs. The newer version has an infant insert, I believe, but I have no experience with that. When the boys weighed less than that, we used a Bjørn Air, which was also a gift; I also used a Maya sling for a bit when Jack was younger. (There's a picture of me and Harry in the sling, below, but I'm not quite sure I had it on right that time — we just never got the hang of it this time.)  Almost all of my friends loved the Ergo carrier the best.