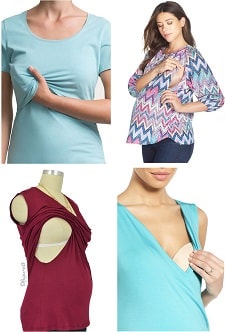 2017 Update: We still stand by this advice on the best brands of workwear for nursing clothes, but you may also want to check out our new page on the best nursing clothes for working moms. 
In the few years that I've been paying attention to nursing stuff (both personally as well as for the blog), I've seen the same companies over and over again. I thought it might be fun to round them up for new moms who are searching for nursing clothes and unsure if that BabySteals or Zulily deal is worth it, or trying to gauge the quality of a brand in a local maternity shop, or experimenting with what kind of nursing access works best.
Pictured at top, clockwise: one / two / three / four.
Personally, my consistent favorites were shirts that lift up, either with partial panels or entire second front layers — they kept my tummy covered while providing some coverage for my breast. The biggest hits and misses came from a second category that kind of overlaps with the first that I'll call the "secret panel" access, like the red top below. Depending on how the cutout hits you and your bust, it could be great — or horrible. Finally, my least favorite were the types that pulled down — the pro here is that there's very easy access, but the con is that the top of your breast is totally exposed. (For some reason, the phrase "whip it out" kept coming to mind whenever I used one of these tops!!!) There are still other tops with different sorts of nursing access, like the secret zippered panel brands like Loyal Hana offer. Most of the serious maternity shops (like the excellent Figure8 Maternity) focus on the first two types. Ladies, which kind of nursing access did you like best? What were your favorite brands for nursing-friendly workwear?