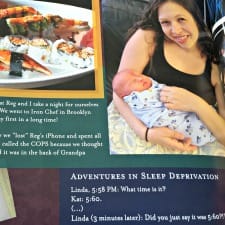 These years go quickly, don't they? They're filled with so much fun and wonder — some of it captured by photos, some of it captured by videos. But there's more than just the pictures, and I'm such a sentimentalist I want to memorialize and remember all of it: the quotes, the daily schedule, the obsessions of the moment, the little milestones (first popsicle! first "good" day at daycare! first time watching Star Wars!).
I've described before how I try to organize family photos and "process" them, and my current end goal for the photos is to put them, along with other written memories, into a yearly photo album made in Shutterfly; my thinking is that I'll appreciate these more than a traditional keepsake journal. Minor problem, though: I'm several years behind on my photo albums at this point. (I have 2013 and the second half of 2014 about 80% done, I swear!) So my challenge has been getting all of the written memories in one place so they can be processed at the same time as the photos and ultimately memorialized in the family album. (Pictured at left: 2014 Part I, memorializing that time right after H was born that I told my mother the time was "5:60" and what at the time we thought was an absolutely hilarious lost iPhone story. Also: first sushi after childbirth, always an important milestone.)
Over the years I've come up with different strategies for remembering all the little things I want to remember about the kids and our family, but my strategies are far from perfect, so I'd love to hear what you guys are doing too.
Some of the things I've done: