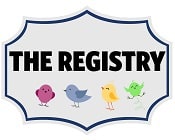 2017 Update: We still stand by this advice on what should moms register for baby clothes— links have also been updated below.
Welcome to installment three of our registry for working moms: general baby clothes. What should new moms register for clothes for their baby? Which are your favorite brands and types of baby clothing — and have they changed through the months and years with kids? We've already talked about carseats and strollers, cribs and sleeping gear, and now: baby clothes for the registry. As I mentioned last time, I envision the entire series going through these categories (stay tuned!):
Carseat — necessary from coming home from the hospital!
Stroller — how many have you tried? How many do you keep? (e.g., big stroller, umbrella stroller, jogging stroller)
Cribs and sleeping gear — crib and bassinet rocker, if necessary
Clothes — daytime clothes, baby socks
Babywearing carrier — infant and 15-lb.+
Baby toys — swings, seats, and other Big Things to register for (Exersaucers, etc)
Essential books
Diaper bag
Nursing clothes
Breastfeeding pillow
And one final category: The Biggest Flops (stuff you hated).
First, some general tips on baby clothes: