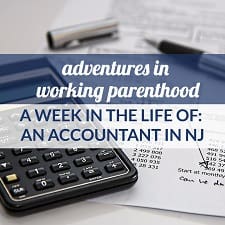 For this week's installment of our Week in the Life of a Working Mom series, I'm happy to introduce CorporetteMoms reader Laurie, who lives in suburban New Jersey with her husband and two kids and works as an accountant. Our usual caveat applies: Please remember that this is is a real person who has feelings and isn't gaining anything from this, unlike your usual friendly (soul-deadened, thick-skinned, cold-hearted, money-grubbing) blogger — so please be kind with any comments. Thank you! – Kat
If you'd like to be featured (anonymously or otherwise), please fill out this form! You can see all posts in this series here.
First, Some Basics About This Working Mom…

Name: Laurie
Location: Live and work in medium-sized town in the suburbs of New Jersey
Job: Accountant for world's largest cosmetics company
Age: 34
Home Situation:
1112-square-foot apartment with my husband (35-year-old graphic designer at a small internet company — I am the breadwinner) and our kids (daughter will turn 5 at the end of this month; son is 2 years old). The kids share a room.

We were in the process of buying a new home, the offer was accepted, and we just completed inspections. Fast-forward one week, I was completely blindsided with news of a big layoff in the accounting department. We had plans to put our home on the market the next day. We had to pull the plug on everything, and it was very hard to swallow this… We had a five-year plan for living in the condo, and now it's been nine years.
Childcare Situation: Daycare full-time, five days a week (approx 7:30 a.m.–5:00 p.m.), $30K a year! :(
A Week in My Life