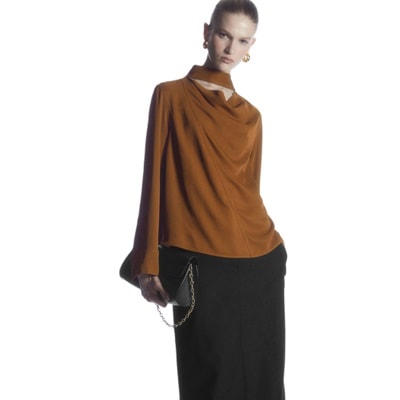 Most office-friendly blouses fall into a few basic categories: sleeveless shell, button-down, etc. Here's a unique blouse that defies easy categorization.
COS's relaxed, long-sleeved blouse is made from an easy-care, fluid viscose blend — and the rich toffee brown is particularly suited for mid-fall. The drapey V-neck is accented by a scarf neckline that can be fastened in place. Unlike most clothing with cutouts, this one can work for the office.
This blouse from COS is $135 and comes in sizes 2–14.
Looking for other washable workwear? See all of our recent recommendations for washable clothes for work, or check out our roundup of the best brands for washable workwear.
Sales of note for 12.5.23…
(See all of the latest workwear sales at Corporette!)