Something on your mind? Chat about it here. But first…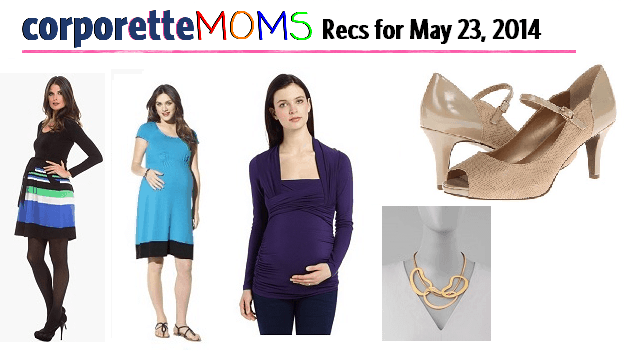 Pictured above: Olian Scoop Neck Maternity Dress, was $150, now $100.50 at the Nordstrom Half-Yearly Sale / Liz Lange® for Target® Maternity Short-Sleeve Dress, (2 colors), was $28 now $13.98 at Target / Ripe Maternity Women's Harper Nursing Top, was $93 now $20.02 at Amazon / Trotters Olive Pumps – were $109 now $98 at Zappos (5 colors!) / Herve Van Der Straeten Vibrations 3-Ring Bib Necklace, was $620, now $434 at Bergdorf Goodman's 5F Sale
A few notes about the above items:  The Nordstrom Half-Yearly sale has started, and there are a ton of great items for women's and kids, including some great maternity picks. (Check out the Corporette clothing picks as well as the shoe picks (most under $100!).)  I like this Liz Lange dress on clearance at Target (this one also looks great, and is probably a thicker material). The Ripe Maternity Nursing Top is a great sale (Amazon seems to have a ton of good sales right now on maternity stuff, actually, including from Nom, Ripe, and Japanese Weekend), and exactly the kind of piece that will do double-duty when you're pregnant and when you're nursing. The Trotters heels look like great walkable heels — the heel height is 2.75″ but the platform is .75″, so the heel is actually only 2″ — AND they come in five colors, AND they're well-reviewed, AND they're only $98. Finally, the bib necklace is a bit of a splurge — but what else do you really want to splurge on if you're pregnant other than jewelry? The Spring 5F sale is nothing to sneeze at, either.
Ladies, which Memorial Day sales will you be checking out this weekend, either for yourself, your kiddo(s), or your partners?
We are a participant in the Amazon Services LLC Associates Program, an affiliate advertising program designed to provide a means for us to earn fees by linking to Amazon.com and affiliated sites.