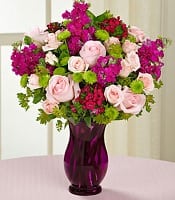 Happy early Mother's Day, ladies! I'm curious: what does Mother's Day look like for you, now that you're a mother yourself? What are your memories of it as a child, and what do you hope/want for it when your kids are small (versus when they are older)?
For my $.02 — as a child I remember a lot of it revolving around my maternal grandmother. I remember that side of the family (four couples with six kids total) would all get together and we would go to a "fancy" buffet or other family event. The kids would wreak havoc (dressed in our frilliest dresses, of course), the parents would endure; ketchup usually wound up squirted across the room at some point. (We know how to party.)
As I've grown older and moved away, the holiday was more or less reduced to a sending of flowers to my mother and grandmother, and perhaps a quick call to both. I tend to remind my husband about getting his mother flowers or a gift as well.
The odd thing for me is that now that I'm a mother — at least while the kids are small — Mother's Day is almost entirely off my radar. Arranging a buffet? Are you kidding? Even flowers for my own mother are usually beyond me (my brother usually deals, thank goodness). I'm too busy being a mother to celebrate it (or nudge my husband until he plans a celebration), you know? This isn't so much of a whine — because if I wanted it, it would happen — just an observation.
Ladies, what are your thoughts — are you keen on being "celebrated" for Mother's Day? Does the holiday revolve around your mother or grandmother? What is your ideal present — jewelry? time alone (e.g., a spa gift card)? a family meal together somewhere nice? 
(Pictured at top: Boundless Beauty Bouquet, available for $69 at FTD.)
—————
N.B. These substantive posts are intended to be a source of community comment on a particular topic, which readers can browse through without having to sift out a lot of unrelated comments. And so, although of course we highly value all comments by our readers, we're going to ask you to please keep your comments on topic; threadjacks will be deleted at our sole discretion and convenience. Thank you for your understanding!