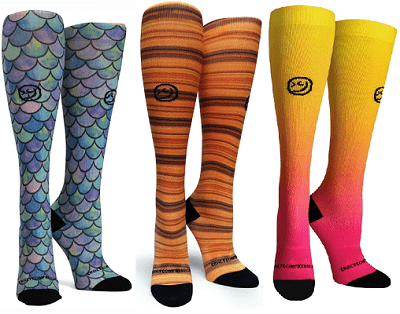 Compression socks are often recommended for pregnant ladies as well as postpartum mamas — I was told I was most in danger of blood clots in the 60 days following birth.
As someone who has a blood clotting disorder ANYWAYS (Factor V Leiden), in colder months I kind of like compression socks, particularly for long drives or flights. It's pretty easy to find boring black/gray compression socks, but finding fun, crazy compression socks (that are affordable) can be difficult.
I forget how I found the site Crazy Compression Socks, but they were having a 50% off sale when I did, so I took a chance on a pair of mermaid socks and a pair with extra cushioning and "infused silver to fight bacteria." (I don't know about the silver, but the cushioning is very comfy!) Two thumbs up on both! I'd worried the mermaid socks would stretch out so the pattern wouldn't be recognizable (or that the pattern would look faded), but that hasn't been a problem.
(Just to be TOTALLY clear, I'm wearing these under full-length pants, although they do feature them sometimes with shorts on the site.)
The socks are generally $15-$30 full price, but the site often has major sales. The brand also offers compression "cycle crew socks," compression runners, and even some nice Halloween socks.
Building a maternity wardrobe for work? Check out our page with more suggestions along both classic and trendy/seasonal lines.