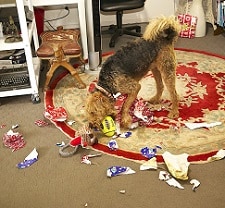 2017 Update: We still think this is an interesting discussion about mamas, holidays, and stress. Since it's that time of year, you may also want to check out our posts on holiday business etiquette.
So: anyone else feel like your head is about to explode? Between buying gifts for everyone, including in-laws, cleaning Casa Griffin for company (ok, cleaning Casa Griffin so our cleaning professional can actually clean it), making sure I have all supplies needed for holiday recipes before the stores close — and getting what work I need to get done before everything is making me totally crazy. How is it December 23? What's my plan of attack, particularly with no school for the next two weeks? Happy holidays, indeed.
I guess this is my fifth Christmas as a mom, but the first time really feeling the stress. Moms who've been in my shoes much longer: does it get better? Ladies, do you feel the stress? What do you do to alleviate it during this time of year (other than, you know, not leaving everything until the last minute)? In the great juggle of work and life, which stressor is more significant this year?
Pictured: Airedale Christmas, originally uploaded to Flickr by Steve Hayward.