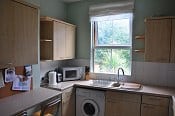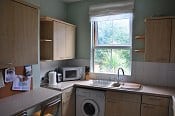 2017 Update: We still stand by this advice on how to keep a clean house as a working mom, but you may also want to check out our latest discussion of when to hire a cleaning service for your home. 
What changes did you make to your cleaning routines after you had kids? Is a cleaning service essential to you as a working mother? The last time we talked about hiring a cleaning service on Corporette, I was struck by how many readers agreed that a cleaning service became a necessity after having kids, and the same was true for me, so I thought we'd discuss. I was particularly intrigued to hear moms of older kids (I think among comments here) talk about how having a daily housekeeper in the post-school hours really helped them bridge the "too old for a nanny, too young to be home alone" time period. (Pictured: Clean kitchen, originally uploaded to Flickr by Ben Sutherland.)
For my $.02.: Today is the most wonderful day of the fortnight: our beloved cleaning professional, Olga, is here at Casa Griffin. I was always highly (highly!) resistant to getting a professional to do our cleaning before we had kids, but it started to make more sense when Jack started crawling (and, um, throwing things like applesauce everywhere). It's now become a non-negotiable for us, in that we will find room for it in our budget somewhere — I love the clean house, the sense of peace and calm that Olga leaves behind, and the fact that I can devote most of my time to either working or mom-ing.
We still do a lot of organizing before she comes to make sure that she can focus on cleaning, and she generally does the floors (mopping, vacuuming), the surfaces (dusting, washing), the mirrors, the bathrooms, as well as changing our sheets, washing our towels, and working on specific tasks like cleaning the walls or windows. We got her number after a friend of mine was waxing poetic about Olga and how wonderful she was. She had such a busy schedule that we had to wait a while to get on her roster, but we've never looked back.
How did you find your cleaning service (or person)? What do you ask him/her/them to do? How often do they come? What do you and your partner (and kids) do in the interim? Did you have a cleaning service before you had kids, and did you make any changes after becoming a mom?