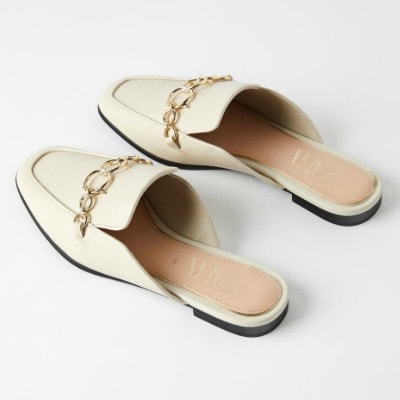 I have yet to pull the trigger on mules. I like the style, especially how they look with cropped or ankle-length pants. My hesitation is that I have to walk a lot for work and my commute, and with slip-on shoes like this, I just know my toes would be gripping the inside of the shoe in a desperate attempt to get them to stay on (long narrow feet problems). If I were in an office more often, I would definitely be weartking these mules, which are from Zara. I like the color, and I really love the linked gold circles. These look way more expensive than they are at $69.90 with real leather.
Leather Mule Loafers
Curious for more? Check out some of our great recent posts on Corporette:
Sales of note for 11.28.23…
(See all of the latest workwear sales at Corporette!)
See some of our latest articles on CorporetteMoms:
Click here to see our top posts!
And — here are some of our latest threadjacks of interest – working mom questions asked by the commenters!