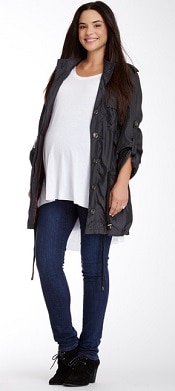 Most work places don't "celebrate" Columbus Day. However, a lot of school districts — and many daycares — are closed today. Uh, hooray. So if you're home (or working from home) today, let's talk about maternity jeans. Which were your favorite? Nordstrom Rack has a bunch of designer ones on sale, and I like the look of these James Jeans boyfriend ones, featuring a full belly band, and, at $96, a price 53% off the original. Nice. James Jeans Boyfriend Maternity Jean
Here's a plus-size alternative.
And here's an interesting opinion piece on what to tell your kids on Columbus Day.