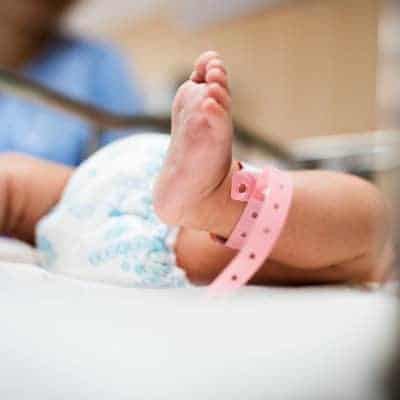 Here's a fun question, ladies: Did you and your partner have trouble deciding on baby's last name? If you took your partner's name, was it with future kids in mind? If you and your partner have different names, what last name does your child have? (If you have multiple children, do they all have the same surname?)
Today you'll hear from four moms on how they decided on baby's last name: your regular CorporetteMoms writers (Kat, Kate, and April) — as well as one of Kat's best friends, N, who really wanted her kids to have her last name.
To give our discussion some context, here are a few interesting stats from various studies and surveys over the last 10–15 years:
Here are four moms' stories about deciding on baby's last name…
Kat – Took Her Husband's Name at Marriage
I never liked my maiden name (Vogele) and used to joke that my goal was to marry into the middle of the alphabet. Still, when I got married, I wasn't ready to jettison it entirely. I was quite happy to ditch my middle name (Marie) and become "Katherine Vogele Griffin" professionally, and I fully intended to keep using all three names. Then when it came time to come out of the anonymous blogging closet, a friend suggested I just go by "Kat Griffin" — Kat had been my nickname for years among close friends, and Griffin was easy to remember, and the whole thing was much shorter and crisper than Katherine Vogele Griffin. It was kind of useful having an alter ego associated with the blog; Kat Griffin was much peppier, nicer, and politic than Katherine Vogele Griffin was.

These days, (and this is probably not a peppy/nice/politic answer) on the motherhood line of things, I feel like motherhood has changed me so profoundly in my outlook and persona, that the name change is irrelevant — I haven't felt like or actually been Katherine Vogele in a long, long time — and now the changed name is the dividing line between girlhood and womanhood, I guess. I really like being able to tell the kids we're Team Griffin, and I wouldn't have wanted to have a different last name from my kids both for that reason primarily, as well as just for logistics purposes.
Kate – Kept Her Last Name; Her Son Has Her Husband's Last Name
"Antoniades" is a pretty long name, and even the Americanized pronunciation is difficult for most people, while my husband's last name has neither of those issues. To me, though, my reasoning for keeping my name was very simple: It's MY name, so I'm not going to change it. My husband didn't try to convince me otherwise, so … case closed. We got married only two years after I graduated from college, so I hadn't published a huge amount of writing at that point, but I'm still glad all of my work has the same byline. I also like that my name still reflects my ancestry, which is Greek and Greek Cypriot.

Several years later, when our son was born, we gave him my husband's name as his surname and my name as his middle name. We didn't consider hyphenating (too long!), and it didn't — and still doesn't — bother me that our last names don't match. There's simply no perfect solution, unfortunately — except maybe creating a new family name (an idea I like, but one we didn't consider for ourselves). When we got married, I didn't want kids, but my decision would have been the same either way.
April – Took Her Husband's Name at Marriage
I didn't really struggle with the decision to change my name, and it ended up being more logistically annoying than any major shift in my identity. The major reason I ended up doing it was that it was important to my husband for us and our future family to have the same name. My husband lets me take the lead on so many things that when he expresses an opinion I know it is something that is important to him. I also happened to luckily be started a new job (and my first true position practicing law) shortly after I got married, so I was able to start completely fresh with my married name.

On a more personal level, I am an interracial adoptee, so I never "looked like" my last name and I always felt like my name, my face, and my identity had a backstory/long-winded explanation. Even though I didn't resemble my parents, our last name tied us together. This was something that I have come to appreciate in having my own little family. We are our own fresh little unit of three.
N. (one of Kat's BFFs) – Kept Her Name; Hyphenated Her Kids' Names
Very early in our dating life, my husband and I exchanged our deal-breakers list. I had only one: I wanted my children to have my last name — that being the last name I was assigned at birth and planned on keeping no matter my marital status. At the time, my husband didn't flinch at it, and I took his lack of a reaction to mean that he was at least mostly okay with the idea. Thus, the deal wasn't broken and we continued happily dating, falling more in love and eventually getting engaged and then married. We were both 35 on our wedding day, so we set about the business of having children right away. To our great fortune, that happened pretty quickly.

Though we were thrilled to discover shortly after our honeymoon that I was pregnant, the impending baby resurrected my deal-breaker. Faced with the reality of naming an actual baby, my husband's true feelings surfaced. He wanted our child (along with any future children) to have his last name. At this point, the conflict was not a literal deal-breaker. We had no choice but to work it out. However, it did place a significant strain on our very young marriage. From an emotional perspective, it was important to both of us to share that part of our identity with our children. From a logical standpoint, I felt that in an age of equality among men and women, it made no sense that the default would be that children take their father's last name. He argued that it would create confusion to go against the norm. In an attempt to compromise, we debated either hyphenating our last names, creating a mashup or alternating last names since we were planning on having multiple children.

The topic created so much tension in our relationship that we avoided it and still hadn't resolved it when I went into labor. It wasn't until the morning that our daughter was born that we finally settled the issue. We chose to hyphenate (my husband opting to have his name first in the order in the hope that someday our daughter will find her 15-character last name so onerous that she'll drop mine from it … eyeroll). We now have three children — two girls and a boy, ages seven, five and three — and they all share the same hyphenated last name. Though I don't share that name with them, I am happy to be fully represented. And when, on occasion, they have noticed that our arrangement is different from other families, we explain the reasoning behind our decision, and they feel no less connected to us for having a different last name.
Readers, what are your thoughts? Did you have trouble deciding on baby's last name? Was your decision an easy one or … not so much? If you didn't change your name at marriage, whose last name do your kids have? If you created a brand-new family name for you, your spouse, and your kid(s) to share, how did you choose it? Have issues about last names caused any conflict between you and your spouse or among your or your spouse's family members?
Psst: whatever name you and the kids have, here is why Kat thinks every working parent needs a family email address.
Stock photo via Stencil.