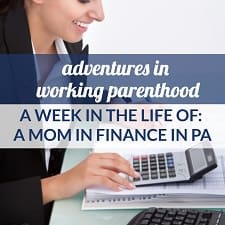 For this week's installment of our Week in the Life of a Working Mom series, I'm happy to introduce CorporetteMoms reader C, who lives in suburban Pennsylvania with her husband and two kids and works in finance at a nonprofit. Our usual caveat applies: Please remember that this is is a real person who has feelings and isn't gaining anything from this, unlike your usual friendly (soul-deadened, thick-skinned, cold-hearted, money-grubbing) blogger — so please be kind with any comments. Thank you! – Kat
If you'd like to be featured (anonymously or otherwise), please fill out this form! You can see all posts in this series here.
First, Some Basics About This Working Mom…

Name: C
Location: Live and work in suburban Pennsylvania
Job: Finance at a nonprofit
Age: 30
Home Situation:
I live in a 3000(ish)-square-foot, 4-bedroom, 4-bathroom single family home with my husband, toddler son, and dog. Our second son is due in a few months. (Note: Since submitting her Week in the Life, C and her family have welcomed their baby!) My husband and I both work full-time. He typically works a second-shift schedule but is in a role where his schedule and work demands can change with little notice.
Childcare Situation: 
My son is home with my husband in the morning. Husband takes Son to Grandma's house in the afternoon when he's on his way to work. I usually go see Son at lunchtime, as Grandma is close to my work. It is an awesome arrangement that helped me ease the transition back to work while trying to keep up with nursing. I stopped nursing a month after returning to work, even with that amazing arrangement! Grandma takes Son back to our house after lunch. Son will nap for 2+ hours at our house in his crib but will only nap for a maximum of 30 minutes at Grandma's house. Grandma will also finish any simple household tasks that we start but don't finish such as folding laundry or putting away dishes. It is a unicorn and very appreciated arrangement.
Stock picture credit: Shutterstock / By Andrey_Popov.
A Week in My Life