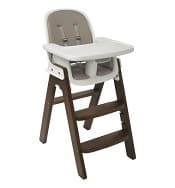 If you happen to be in the market for a high chair, we've had this OXO chair for years and have loved it for both boys. A five-point harness (yippee), easy to clean (and removable) seat (as well as a very easily cleaned, lightweight tray)… all with a fairly good looking design as far as high chairs go. It's also adjustable, so you really can have your kiddo in it up to 36 months. We have the green with the matching booster seat, but if I were buying it today I'd be all over this sophisticated taupe/walnut version. OXO Tot Sprout Chair
Psst: We haven't yet gotten to this section in our registry series, but stay tuned!
Ladies, which high chair do you have? Which is your favorite?