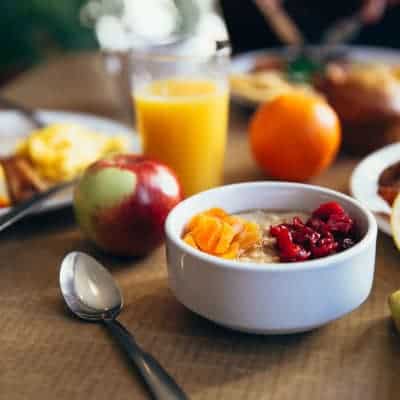 Here's a question for you: who does breakfast in your house? You? Your partner? Your caregiver? How much variety do your kids have for breakfast, and — with the huge abundance of high sugar / high calorie breakfasts for kids — how strict are you in what they're allowed to have?
Calories and sugar are always on my mind as a mom, but it particularly reenters my mind once school starts up because I don't want my eldest (7) to have a sugar crash before lunch time! For us breakfasts tend to be one of the following:
cereal and milk (mostly "bad" cereal like Reeses Puffs!)
"healthy" frozen muffins like these ones from GardenLites with a glass of milk
yogurt
maaaaybe a frozen waffle, English muffin, or mini bagel (but with a glass of milk for protein)
if we're running out the door, half an RXbar or the like
While my son likes eggs he isn't really into eating them in the morning — not that I or my husband really have the energy to make them for him in the morning. He does like oatmeal, so that's an option for when it's colder out — but it doesn't really help with the protein front unless I make it with milk. For our household, my husband tends to be the earlier riser with the kids, so most of the time he takes care of breakfast…
How about you guys: what do your kiddos eat for breakfast — who picks it out, and who feeds it to them? Does anyone do batch cooking on the weekend (like for all those cute egg frittata recipes that my kids won't eat) — on the flip side, who's happy if your kid grabs a PopTart on the way out the door? How have your own breakfasts changed in the years since you became a working mom? (Does anyone try to do a sit-down breakfast as a family meal instead of dinner?)
Psst: check out our last discussion on how to make mornings easier as a working mom!
Stock image via Stencil.