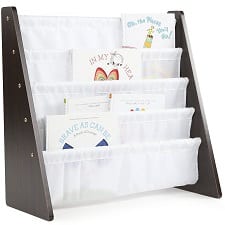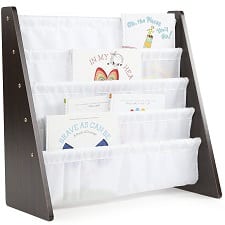 We have this $29 bookshelf in the "primary colors" version, and honestly I'd have pulled the trigger a lot quicker on it if I'd seen this more elegant espresso/white version. The books-forward bookcase is great for toddlers and littles who aren't speaking well yet but who can point at the book they want when they see the cover; we also find it useful for series like Golden Books where there is nothing written on the spine of the book or the "I Can Read" type books that are so thin everyone's squinting at the book anyway. (Honestly we also use the bookshelf to store a random keyboard that gets trampled on elsewhere.) The "shelves" are made of cloth so it's very light weight — we go crazy anchoring furniture and I've never been very concerned about this one. The bookshelf is $29, available in five color combos. (The matching "affordable" toy storage organizer, $59, also comes in the espresso/white version — again we have it in primary colors, but I wouldn't necessarily recommend it because both boys tend to take everything out of every bin and dump/throw it in a huge mess and then walk away until someone (Mommy) sorts it and then they repeat the process, hence our recent switch to toy bins that click/lock shut. Perhaps if your kids are less obsessed with chaos than mine it's a good purchase…) Pictured: Tot Tutors Kids Book Rack Storage Bookshelf
Psst: to those commenters wondering about how you fit an entire kids' library on these — you don't. At least I don't. We have most of the books in our old Expedit (5×5) for the kids but they're overflowing there too — I just use these little shelves for "display" (as in look, Mom got you new books from the library, don't they look fun!) or to keep the "most-loved books of the moment" out and reachable. I try to rotate books but… yeah.
This post contains affiliate links and CorporetteMoms may earn commissions for purchases made through links in this post. For more details see here. Thank you so much for your support!