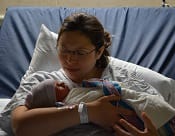 A friend somehow stumbled on Jack's birth story a week or so ago and remarked how births are surprisingly traumatic for a lot of mothers, and how we should discuss it here — particularly how to deal when your labor experience leaves you angry. I agree — as I noted in that (extraordinarily long) post, Jack and I both came out fine in the end, but not without a few harrowing first days for me, in large part due to the feeling that the hospital kind of forgot about me. We couldn't get a doctor to stay in the room for his birth, and then they stuck us in an isolated room and didn't visit us for hours afterwards. I nearly passed out the first time I tried to go to the bathroom by myself because I didn't know I was supposed to ring for the nurse; no one even mentioned that I should try to feed the baby every 90 minutes to establish a supply. Heck, I didn't even speak to my up-to-that-point beloved OB/GYN — or anyone from her office — after the initial phone call of "Yup, sounds like labor, come to the hospital!"
I was angry at the whole labor experience for a very, very long time. I questioned myself — how could I have done it better? Had I been too complacent, too lazy — expecting that the hospital would treat a first-time mother and her child with kid gloves? And my doctor — I really had loved her and thought of her as a good friend. The fact that I didn't see her or anyone from her office for the entire three days I was at the hospital — even after I called to complain about it the morning of my last day there — felt like a complete and total betrayal. One of the nurses even told me that my doctor had been in the hospital — on my floor — after I had delivered, and that she wondered why the doctor hadn't come in to see me. The nurse's words stung me deeply. Even this I look back on with cynicism, and think, well of COURSE your doctor doesn't care about you on a personal level — you're just a number to her; she has hundreds of patients.
The only thing that helped me recover from my birth experience trauma with Jack, honestly, was Harry's birth, which went much better. I still haven't finished writing that post, but briefly: my water broke at 5 AM, we were at the hospital by 8 AM, and he was born around 2:05 PM. I had switched hospitals (and doctors) for the birth, and saw not one but two doctors from my OB practice within 24 hours after birth; the hospital also had a lactation consultant making personal visits to each new mother, as well as breastfeeding classes at the hospital each day. They even had a sign up in the hallway telling mothers how many laps around the hallways counted as a quarter of a mile. It was 1000% better — and even then there were parts of it that stank, like when my nurse went on break in the middle of the night and a random, bitchy, judgy nurse insisted on inserting herself into the situation. Or when I decided to stay a second night at the hospital (on advice from another friend who'd just had her second), and I wished all night long that I could just sleep on the floor next to the baby because the high, wide hospital bed and baby incubator were way too much for me as I recovered.
My expectations were much lower this time around, but Harry's birth helped me see that my lousy experience with Jack's birth was largely due to external factors I couldn't have controlled, along with the fact that, hey, it's labor and delivery and a newborn, not a walk in the park.
Ladies, did your birth experiences leave you with some trauma, or — like me — self doubt? Have you discussed it in therapy? What helped you get over it? If you had more children after your first, how did you get the courage to go through the experience again — and how did you prepare? 
—————
N.B. These substantive posts are intended to be a source of community comment on a particular topic, which readers can browse through without having to sift out a lot of unrelated comments. And so, although of course we highly value all comments by our readers, we're going to ask you to please keep your comments on topic; threadjacks will be deleted at our sole discretion and convenience. Thank you for your understanding!