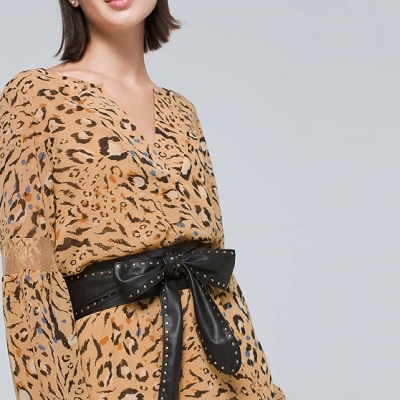 I‌ ‌completely‌ ‌forgot‌ ‌about‌ ‌belts‌ ‌during‌ ‌the‌ ‌past‌ ‌year and a half.‌ ‌Now,‌ ‌I‌ ‌remember‌ ‌why‌ ‌they're‌ ‌one‌ ‌of‌ ‌my‌ ‌favorite‌ ‌accessories‌ ‌—‌ ‌even‌ ‌the‌ ‌simplest‌ ‌one‌ ‌can‌ ‌completely‌ ‌transform‌ ‌or‌ ‌complete‌ ‌
an‌ ‌outfit.‌ ‌
‌
I'm‌ ‌looking‌ ‌for‌ ‌something‌ ‌beyond‌ ‌a‌ ‌traditional‌ ‌trouser‌ ‌belt‌, and‌ ‌this‌ ‌Soft‌ ‌Studded‌ ‌Obi‌ ‌Belt‌ ‌from‌ ‌White‌ ‌House‌ ‌Black‌ ‌Market‌ ‌might‌ ‌be‌ ‌it.‌ ‌This‌ ‌black,‌ ‌studded‌ ‌belt‌ ‌will‌ ‌add‌ ‌some‌ ‌edge‌ ‌to‌ ‌any‌ ‌flowy‌ ‌dress‌ ‌or‌ ‌tunic‌ ‌top ‌and‌ ‌will‌ ‌instantly‌ ‌define‌ ‌your‌ ‌waist.‌ ‌I‌ ‌could‌ ‌see‌ ‌taking‌ ‌it‌ ‌into‌ ‌the‌ ‌fall‌ ‌by‌ ‌pairing‌ ‌it‌ ‌with‌ ‌a‌ ‌textured‌ ‌sweater‌ ‌dress‌ ‌or‌ ‌even‌ ‌a‌ ‌wool‌ ‌sheath.‌ ‌
It's‌ ‌also made‌ ‌from‌ easy-to-care-for‌ ‌polyurethane‌, ‌so‌ ‌you‌ ‌can‌ ‌just‌ ‌wipe‌ ‌off‌ ‌any‌ ‌splatters‌ ‌or‌ ‌spills.‌ ‌ ‌
‌
This‌ ‌belt‌ ‌is‌ ‌$69 and is available‌ ‌in‌ ‌XS/S‌–XL.‌ ‌Prefer‌ ‌real‌ ‌leather‌ ‌or‌ ‌need‌ ‌additional‌ ‌size‌ ‌options?‌ ‌Check‌ ‌out‌ ‌this‌ ‌option‌ ‌from‌ ‌Eileen‌ ‌Fisher‌ ‌that's‌ ‌available‌ ‌in‌ ‌sizes‌ ‌XS‌–3X‌ ‌for‌ ‌$98.‌
This post contains affiliate links and CorporetteMoms may earn commissions for purchases made through links in this post. For more details see here. Thank you so much for your support!