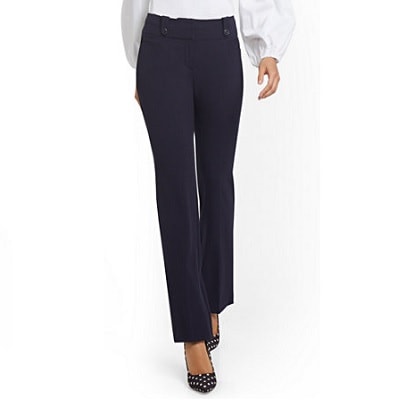 We included New York & Company's 7th Avenue pants in our post on washable pants for work over on Corporette, but today I'm giving them their own post, especially because they're 50% off at the moment.
These pants are machine washable and have real pockets (both front and back), as well as 4% spandex for some stretch. I really like the buttons at the belt loops, which fits in with the button-y pants trend right now (yes, that is the technical name).
The pants are on sale for $29.97 and come in sizes 0–20 in three lengths. They're available in the pictured navy as well as a bright blue — and there are many more 7th Avenue styles and colors available. 7th Avenue Mid-Rise Barely Bootcut Pant
Looking for other washable workwear? See all of our recent recommendations for washable clothes for work, or check out our roundup of the best brands for washable workwear.