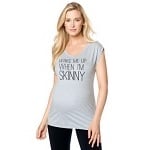 Some of the articles of interest to working mothers that we've seen around the web recently…
Two takes on the recent Pea in the Pod "Wake Me Up When I'm Skinny" t-shirt controversy: Jezebel calls it (and its price tag) outrageous, while Good Enough Mother doesn't see what everyone's so upset about. What's YOUR take?
Working Moms Against Guilt rounds up six ways for working moms to fit in summer family fun.
Pondering becoming a SAHM? Forbes looks at how alimony reform is affecting how that decision might play out if you get divorced.
Whether you have a toddler or a teenager, the same looming dread is there: college (and particularly, how you and/or your kiddo will be paying for it). The WSJ looks at the "significant" way college will be changing in the next 15 years.
The NYT's Motherlode blog ponders the implications and necessity of school dress codes, particularly for girls.
What if you have kids, or you're pregnant (or both), but a close family member or friend is struggling with infertility? AlphaMom has some thoughts on the do's and don'ts of maintaining the relationship.
Make sure to check out this week's news update over at Corporette!
On Corporette Recently…