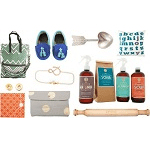 Some of the articles of interest to working mothers that we've seen around the web recently…
Working Moms Against Guilt rounds up some subscription boxes for kids — and for you.
Ain't No Mom Jeans checks out ShopBuru, whose tagline should interest a lot of working moms: "Hand-Picked Ready-to-Wear for Breast-feeding Moms and Beyond."
The Harvard Business Review discusses how a parent can become a "work-life athlete" through the principles of corporate athleticism.
NPR takes a look at how parents' anxious parenting styles can add to their children's own anxiety.
Joanna Goddard of A Cup of Jo asks her readers how many kids they want to, or wanted to, have (see the comments) and how things are turning out. How about you?
The WSJ tells us that working fathers' struggles are starting to sound more and more like working moms' struggles. (Does anyone else feel like this is a "well, duh" moment?)
The New York Times' Motherlode blog talks about the all-or-nothing approach to giving our kids our attention.
Parents gives you 14 ideas on what to do with all of those art projects your kid brings home.
Make sure to check out this week's news update over at
Corporette
!
On Corporette Recently…
We are a participant in the Amazon Services LLC Associates Program, an affiliate advertising program designed to provide a means for us to earn fees by linking to Amazon.com and affiliated sites.