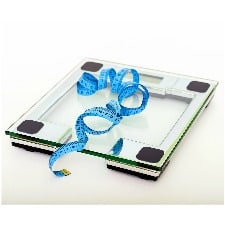 Ladies, here's a fun open thread for today: how did you lose the baby weight? If you haven't yet (but have tried), what do you think the reason is? Have you discovered any new great recipes or workouts you love along the way?
For my $.02, I'm still struggling, I guess with weight that I originally put on when I was pregnant with my first (who was born in August 2011, so, uh, it's technically still baby weight, right?). I did everything to lose weight after J was born — being in a new body at the same time I was going through my postpartum identity crisis seemed like adding insult to injury.
I finally got into a good groove right around the time we got pregnant with my second, H. During my first trimester, J was just starting a new "school year" at his daycare, and I caught at least two stomach bugs from him. As a result, I actually lost about 10 pounds during those few months. My doctors said not to worry, one telling me cheerfully, "You have a very efficient little parasite in there!" I was already so overweight that minimal weight gain during my pregnancy was the goal anyway. I gained 20 pounds after that point — before delivering a 10 pound, 2 oz. baby. After H, I fell into a good weight training regimen and lost more weight — then hit a stressful patch last summer and gained a ton of it back… and then tore my ACL on vacation in November, which at least put the focus on food.
Going back even further than THAT, though, I had lost/maintained a healthy weight for years when I was in BigLaw — but when I left my firm (ending my nightly healthyish Seamless dinners for 1) and got married, and started drinking a glass of wine (or more) with dinner most nights, that was when the real weight creep started. I never really found my "healthy" groove, if that makes sense.