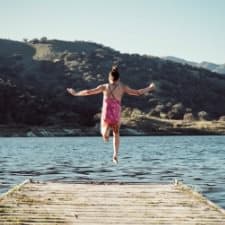 Now that the school year is almost over (um, how?), it's a good time to ask the readers this question: Do you typically change your work schedule for summer — or your childcare schedule for summer? If your kid goes to a typical childcare center, you may not have to deal with any summer schedule changes, but for moms with school-aged kids (or, for example, if you have a college-age nanny who goes home for summer), it's a different story. For many working moms, unless you have a kid who's willing to do the same thing every week, you usually end up cobbling together various day camps to cover July and August (if you're the default parent, that is … which, as a mom, you probably are).
Summer camp registration is so stressful: It often feels like putting together a puzzle with a bunch of missing pieces — and for the most popular programs, you have to make sure you sign up your kid early enough before they fill up (which means March in many cases, or even earlier — and that's assuming you KNOW which are the popular ones). If you're lucky, you'll manage to find a camp for the week(s) in June after school ends and the final week or two of August when many camps have closed up shop. (Good times for a family vacation, perhaps?) To complicate things further, day camp schedules aren't always working-mom friendly, especially for younger kids. Here are a few schedules from camps in my area:
Zoo camp: 9:00 a.m. to 4:00 p.m. (8:00 a.m. to 5:00 p.m. with before care and after care, $50/week extra)
Science camp: 9:00 a.m. to 4:00 p.m. (7:45 a.m. to 5:30 p.m. with before care and after care, $45/week extra)
Music camp: 9:00 a.m. to 3:30 p.m. (8:00 to 5:30 with before care and after care, $75/week extra)
Fortunately, about 18% of employers offer some kind of summer hours (half-day Fridays, etc.). Does yours? If you change your work schedule for summer, do you use any of the following options?