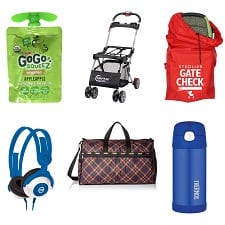 I was just talking with one of my mom friends about my best tips for flying with kids and thought it might make an interesting discussion over here. So ladies, what are your best tips for flying with kids? Have you found that different things worked when they were babies, then toddlers, then kindergartners and beyond? You may want to check out previous tips for using AirBnB with kids, as well as pumping while flying.
Pictured, clockwise: Applesauce / Stroller for car seat / Gate check bag for strollers / Thermos bottle / large, lightweight, durable nylon bag for carrying on / kiddie headphones.
Pack snacks that suck. OK, here is my top tip: You need to pack snacks that kids can suck on to help alleviate ear pressure. Applesauce pouches, Thermos/Zoli cups (not straw Take & Toss), lollipops for bigger kids, bottles/binkies/Mom for littler kids. (I always nursed on the plane… it tended to make them sleepy, too, which we always welcomed.) Another big tip: Warn your kids their ears are going to hurt, once before the trip happens and again, loudly, once when you're on the plane and it's starting to make its ascent/descent. This accomplishes two things, the first of which is that hopefully your kid won't freak out when they feel pressure building. Even when the boys were infants I would explain this to them, because who knows what they understand and don't — you can pull at your ear and their ear more if they're littler. The second thing this accomplishes is giving your seatmates a heads-up. I think for new parents, particularly, it can be stressful flying with kids because you remember being that single adult on the plane who hated whenever kids cried. Before I had kids it never occurred to me it's because they're freaked out that they feel like their heads might explode… so consider it a subtle, informal education for your seatmates. We also bring a lot of other snacks, an empty plastic bag for all our little wrappers and other trash, and as many napkins as we can steal from the airport Au Bon Pain or wherever.