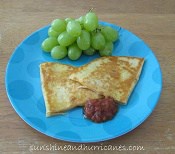 Some of the articles of interest to working mothers that we've seen around the web recently…
Sunshine and Hurricanes helps you teach your kid to pack her own lunch.
Proud Working Mom looks at common myths about working moms.
The Huffington Post gives you tips on making business travel easier for you and your family.
Today checks out new apps designed to help you find new mom friends [autoplay video].
Bustle shares some eerie baby monitor experiences. (Do you have a creepy one to share?)
Brain, Child magazine questions the labeling of some students as gifted.
The New York Times' Motherlode ponders kids' sports — and whether you really need to go to every game…
For your Laugh of the Week, McSweeney's has some helpful tips for your childbirth class!
Do be sure to check out the news update over at Corporette!
On Corporette Recently…
Did we miss anything? Add 'em here, or send them to [email protected] Thank you!