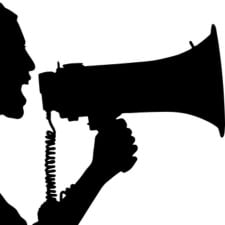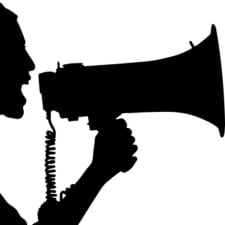 Today's topic: the mom voice. Do you think you have a "mom voice"? Have you heard your friends' mom voices — and did it bring you comfort or freak you out? Have you ever noticed your mom voice encroaching at the office — and was it welcome or unwelcome? 
A few weeks ago, an old friend who lives in a different city posted a video on Facebook of her three-year-old son. She was off-camera, with her little boy front and center, and my friend K was at first encouraging him, then scolding him when he started making a mess.
It was a cute video, but what I loved most surprised me: It was her MOM voice. It's that distinct voice that we all found once we became parents to an unruly toddler — equal parts educator, disciplinarian, cheerleader, and perhaps world-weary battle warrior. It's something I've often recognized in my own home videos ("GAH, is that what I really sound like? What a nag…"), but it was kind of AWESOME to hear my friend's mom voice. I'm not sure if it was because I was so happy to hear it in someone else — a kind of validation, like, "Look, another previously cool chick has turned into a MOM!" — or if it was because we haven't kept in touch and her voice tells me a lot about where she is in life, which I suspect is the same place I am. Like if we were to meet up on a playground or coffee shop we'd instantly fall back into that happy old rhythm of friends.
What was really interesting was how, after she posted the video, a LOT of people commented on how nice it was to hear her mom voice. So I'm not just a weirdo! (Nah, I totally am.)
So here are the questions, ladies: Do YOU have a mom voice that you recognize? (Did it start after you grew out of the POOPCUP stage of parenting?) Have you heard your friends' mom voices — and did it bring you comfort, solidarity, or something else? (Have you found your mom voice encroaching at the office? I've definitely noticed that I'm less willing to take any BS these days in any circumstance, but I'd attribute that more to being a grownup and less to a mom — but I'm curious to hear your thoughts.)
Pictured: Pixabay.