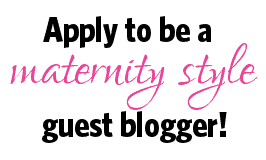 Are you pregnant right now, and having fun with the challenge of looking professional while pregnant? We'd love to see snaps of your favorite outfits (it's ok if you crop your head out!), and hear about which pieces are your MVPs, which pieces were wastes of money, and what work-arounds you've found.
What's involved:
a commitment to do at least 10 posts, be it outfit snaps or other thoughts on dressing professionally while pregnant
if it's an outfit snap, tell us what you're wearing and we'll do the rest
creating content for one new post at least every 2 weeks (writing or photographing) — if you want to send us several posts at a time that's fine too
if a written post, at least 300+ words
Please note that where appropriate, CorporetteMoms will add our own affiliate links into the content. We kindly ask that you do not seek sponsorships or free clothing from maternity stores for purposes of blogging here; any such arrangement must be disclosed to the team at CorporetteMoms.
What's In It For You:
Fame! Fortune! (Kidding, on both counts, although we do hope that CorporetteMoms will grow a significant readership the way that Corporette has.)
Links to your personal blogs, should they exist and should you want links.
How to Apply
If you'd like to apply, please send the following information to us at editor at corporette dot com (subject line: "MATERNITY"):
Your name (to be kept in confidence unless we agree otherwise)
Your age
Your due date, and how many weeks along you are
Your occupation, and a few words about what you normally like to wear to work, what kinds of career situations you find yourself in often (e.g., trials, client visits, presentations, extremely long workdays, etc.)
Your maternity budget (if you have one)
Your general size info before you got pregnant and any particular body notes (I'd love it if we could represent a range of sizes and body types on CorporetteMoms!)
At least one recent outfit snap (one from your smart camera is fine)
If you have another blog or a presence online (that you would want to link to CorporetteMoms), please provide links — e.g., Blogger, WordPress, Tumblr, Twitter, Instagram, Pinterest, Vine, etc.)
Thank you so much for considering applying!