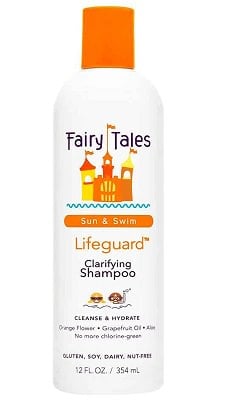 With summer coming up, if you have little ones who'll be swimming you'll want to make sure to take care of their hair — especially if they'll be spending time in chlorinated pools. I didn't, and my little blond boy got totally dry, crunchy hair last summer. This shampoo from Fairy Tales seemed to work, and these little pouches work wonders if you're already looking at chlorine damage. (They're pricey, though; I got one for free from my cousin, a hairdresser, and you may want to check the salon locator if there's one near you that sells them for less than $20.) Having researched swimmer's hair a bit for my blonde son, though, one of the best things you can do is spray water on your kiddo's hair (or otherwise get it wet) before they get in the pool. Apparently, hair is like a sponge and can only hold so much water; if you get it wet with non-chlorinated water first, the chlorine water has much less to "stick" to. Pictured: Lifeguard Clarifying Shampoo
2018 Update: We're adding this product to our CorporetteMoms Hall of Fame because it's still being sold in stores and we still love it!
This post contains affiliate links and CorporetteMoms may earn commissions for purchases made through links in this post. For more details see here. Thank you so much for your support!