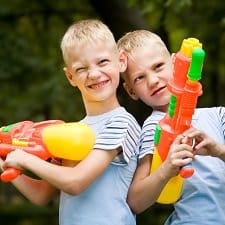 It's the season for outdoor water fun — swimming, running through sprinklers, etc. — so we thought it would be a good time to ask: Do you let your kids play with water guns and other toy weapons, such as Nerf guns? For his birthday last year, my son got one of those giant, Super Soaker-type of water guns (from a classmate), and this year for his birthday he received a Nerf gun (also from a friend — not us). He's been asking for a Nerf gun for a long time and was so excited to get one. The kids' parents didn't know that we hadn't given him any toy guns (I'm not a big fan), and in the end, we've let him play with the gifts (although we do have rules, such as "Don't ever aim them at people or animals").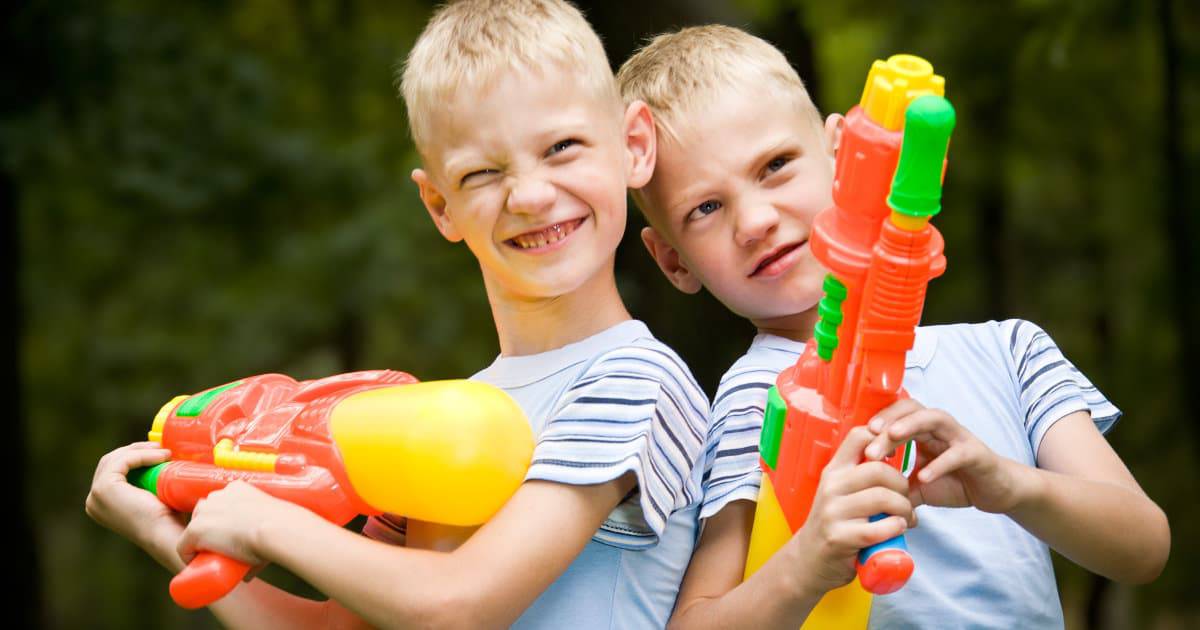 If you want to keep your kids away from toy guns, a total ban seems impossible. If you prohibit them from playing with water guns and other weapon-like toys, won't they just go and use them at a friend's house and/or get invited to a "Nerf Wars" type of party for a friend's birthday? (My son, who's in primary school, has gone to two so far.) Or does it make a difference if you personally show your disapproval? Some parents just give up and go along with with the (stereotypical) reasoning that "Boys will turn anything into a gun anyway." If we give our kids water guns and so on, should that enter at all into our conversations with them about, for example, why their school has lockdown drills? Do kids really look at violence or guns any differently when they play with toy guns.
I'll admit that I haven't been motivated enough to do any Googling about the effects of playing with toy guns, and whether my uneasiness is warranted — and when I finally did, er, today, I learned that research hasn't found a link between violent play as a child and violent behavior as an adult. Many studies have drawn conclusions like that of this one, as summarized by Slate: "[W]hen kids incorporate violence into their pretend play, they may learn how to control real violent impulses and regulate their emotions."
So, do tell: Do you let your kids play with water guns and other toy weapons? If not, why — and if so, what are your ground rules (and the conversations you've had with your kids about them)? Have you bought things like water guns or Nerf guns for your kids' friends? If you prohibit toy guns at home and your child receives one as a gift (or gets one in a party favor bag) what do you do, and how do you explain it to your child?
Further Reading:
Pictured: Deposit Photos / leon_traut.