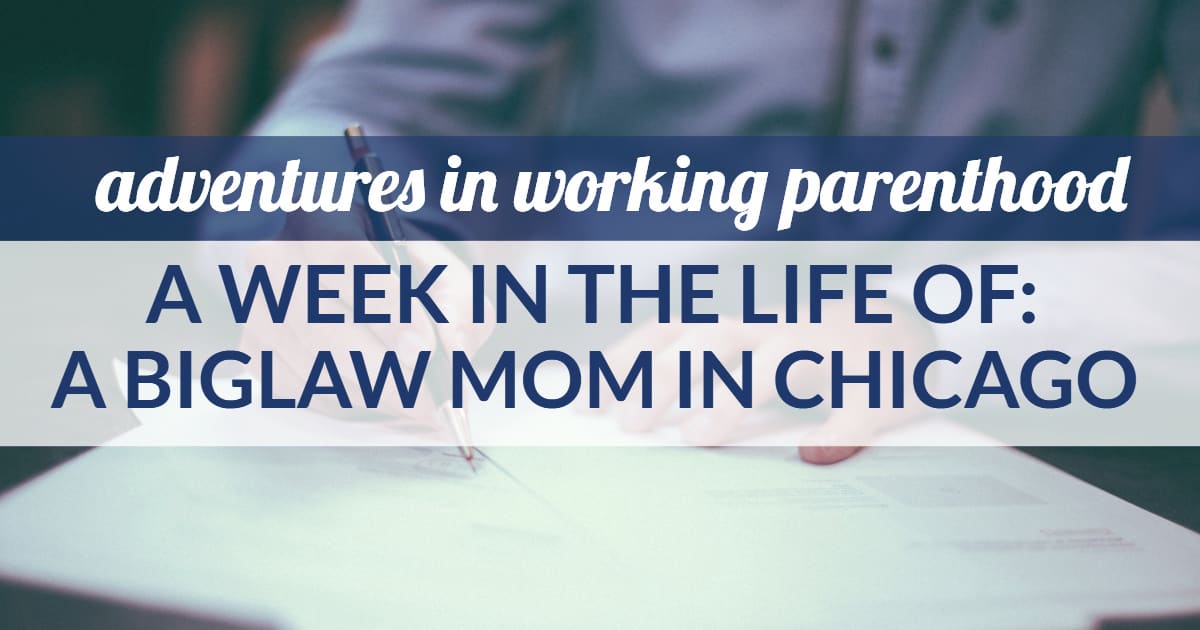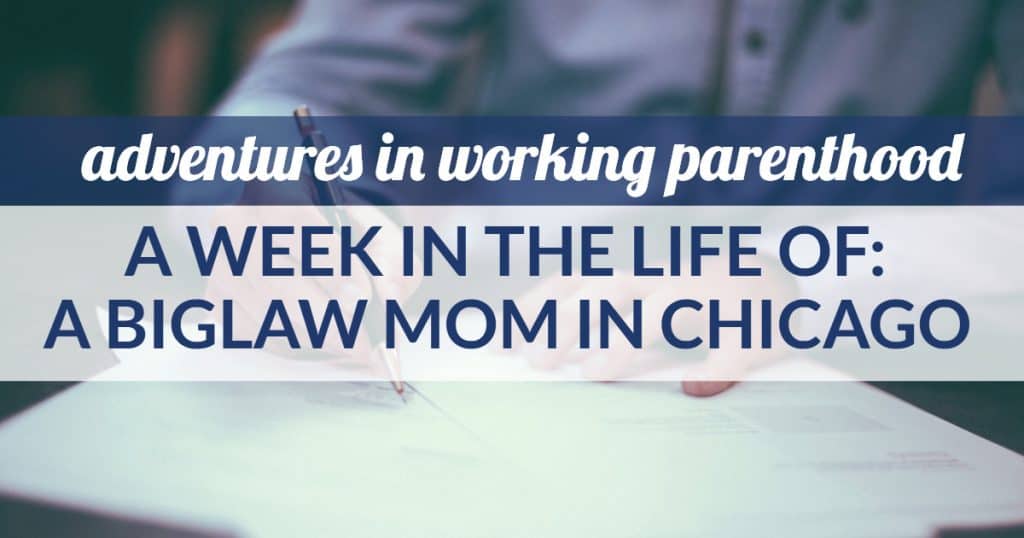 Wednesday
6:00 a.m. – Wake up with F. Nurse. Decide not to shower because I don't want to; dry-shampoo hair. Remember that I was going to get up early to run this morning but shrug, not going to/didn't happen. Have minor fight with husband about the amount of bread and dairy he is serving vs. other foods; is this the cause of F.'s constipation? He points out that I have not cooked one single meal since I started in BigLaw. I point out that it is his job to feed us and F.'s digestion is not doing well on current diet. Resolution: serve at least two vegetables with each dinner. (Does that solve the bread and dairy problem? not sure.)
8:30 a.m. – Somehow despite being up early, leave late for work. Say hi to nanny on my way out the door; I haven't seen her for weeks because I leave for work before she arrives and husband handles all the logistics. I take an Uber so I can bill while in the car.
12:00 p.m. – Learn that the deal died, so I'm back to no work. Take a long lunch and send out some emails to my pro bono clients so I can make headway on their cases while I'm not busy.
6:00 p.m. – Leave work. Meet husband, F., and another couple at a brewery for a beer and french fries for dinner.
7:00 p.m. – Get home and do bath and bed. I have not missed a bedtime since F. was born.
8:00 p.m. – Answer emails, enter my billable hours; despair how behind I am. Stretch. Take off my chipped nail polish. Get ready for bed but somehow forget to remove my mascara.
11:00 p.m. – Get up with F. and bring her to our bed. I love to co-sleep, even when F. farts in my face.
Here's some additional info from L. when we asked how she and her husband divvy up household responsibilities:
I basically spend all of my non-work time with [our daughter] and my husband does all the household tasks. I help, but I'm not really in charge of anything. Sometimes I order takeout. I do take care of the monitoring or administering our finances — bills, getting taxes done, etc. — and a lot of the social stuff — buying baby gifts and sending condolence cards. Those are things that I mostly enjoy doing and he really hates doing, and I've done them (automatically?) since we were married.
We also asked L. about never missing a bedtime: Was that intentional?
It was a conscious decision, driven in part by the fact that I am still breastfeeding and really wanted to be home to nurse her before bed. We also co-sleep (intentionally!) so being away from her overnight is out. It is a good touchstone to make sure I'm being the kind of parent I want to be. There are some nights that I swing in at 7:10, put her to bed, and am back working on my computer by 7:40, (but that "bedtime" goal is always a reminder to me to structure my day in a way that keeps my priorities in order). I'm sure there will come a point (maybe after I wean?) when it feels less important to always be there for bedtime, and more important to have more availability for work, but for now, this is what I want.
Thursday
6:30 a.m. – Wake up and nurse F. Shower because I didn't yesterday; wash my hair, which takes forever. As soon as I am out of the shower I text my stylist to set up an appointment for highlights next weekend — she comes to my house so I can work or see my kid while she does my hair.
8:00 a.m. – Leave for work; husband did not pack me a lunch, which I am annoyed about. Then get to work and remember that I have a department lunch meeting today, which I am also annoyed about.
8:30 a.m. – 10:30 a.m. – I answer personal emails, set up doctors appointments for me, husband, and F., and research specialists. I read Corporette.
10:30 a.m. – 12:30 p.m. – Make a little progress on one of my assignments.
12:30-1:30 p.m. – Department lunch meeting. I leave early, checking my phone like I'm getting an important email. I am not.
1:30 p.m. – I research other nannies and daycare options for F. Part-time care seems harder to arrange than full-time care? But we like being able to keep her at home and it is so nice not to have to do drop-off/pick-up.
3:30 p.m. – I meet with a pro bono client. I really enjoy my pro bono practice.
4:30 p.m. – I meet an acquaintance for coffee; she has also done the same type of pro bono work and recommends some resources. We show each other photos of our children. The nanny sent me a very funny snap of F. today.
5:30 p.m. – I clean my office and make an enormous to-do list, very specific, for tomorrow so I don't waste too much time.
6:00 p.m. – I leave work. Supposedly this firm is not big on "face time" but even though I work most evenings from home, I'm usually the first one to leave at 6:00 and feel weird about it. I think my department is actually pretty keen on face time. I am almost always the first one in in the morning, but no one is here to see that — they only see that I leave at 6:00.
6:30 p.m. – Dinner, nurse, bath, bed, etc.
8:00 p.m. – I log back on and plan to do work, but instead spend three hours updating our budget, paying bills, and moving money around. Husband hates that kind of work so I handle all of it.
11:00 p.m. – I have stayed up later than I planned. I lay out my gym clothes and go to bed, but then read and chat and garden with husband until 12:00.
Friday
5:30 a.m. – I get up to go to the gym; F. wakes up because she came to bed with us during the night and makes me late again.
7:00 a.m. – Home from the gym. Nurse, shower, and get ready. Think that if I were ever a stay-at-home mom I would make eggs for breakfast; husband does not but offers me toast. Complain that it is not enough protein after a workout. Eat peanut butter from the jar and decide to pick up something at the smoothie place across from my office.
8:15 a.m. – Leave for work. It is mostly a slow day (I go to the bank during the day and write a condolence card to a friend, also tasks I handle for the household) but then at 3:00 a senior associate comes in my office and says her junior associate has quit unexpectedly, would I like all her cases? Yes I would. So I stay a little later to review them and get any files I need to take home for the weekend. I try to find out why the junior associate quit — seems like she suddenly decided to lateral to another firm without two weeks' notice. Seems weird. I like my firm and want to stay here for 5+ years if possible.
6:45 p.m. – Finally leave work; I take an Uber instead of the train so I can continue to review files on my way home.
7:15 p.m. – Arrive home, dinner/bath/bed; F. had a late second nap so she is still in a good mood and fun to hang out with.
8:45 p.m. – F. finally goes to bed; we did a long bedtime routine just because I missed her. I open a beer and work a little longer.
10:00 p.m. – Watch "The Americans" with husband and crash.
Saturday
6:00 a.m. – Would like to sleep in but would more like to bill a little more. I get up while F. and husband are still sleeping and bill in my pajamas on the couch. Briefly panic because I had forgotten to submit time for a matter — time was due on Friday. Email my secretary and decide not to worry about it.
7:30 a.m. – F. and husband are up; I do coffee and breakfast with them and then work some more from our home office. Husband lets F. run around in her pajamas all morning.
11:00 a.m. – F. wakes up from her nap and we do showers, get dressed, etc.
12:00 p.m. – We leave for a park where we are meeting friends and their children. I check my email all afternoon because one of my deals is moving quickly. F. says, "Mama, emails? No, no emails, play." So I put my phone away for awhile, but it's stressing me out.
2:00 p.m. – We get home and F. goes down for her second nap. I answer email and tidy up the house.
3:00 p.m. – When F. wakes up we FaceTime my parents and then go for a walk around the neighborhood; while I'm out I pick up some takeout for supper.
5:30 p.m. – We eat early. I help clean up the kitchen.
8:00 p.m. – F. is in bed. I take my computer to bed and work a bit more, then download the next romance novel in the series on my phone, and then decide that's silly so I go get husband from the living room (he is playing a video game) and we start to garden, but F. wakes up. Husband goes to put her back to sleep. She goes to sleep, we start to garden, she wakes up. We give up and let her come to our bed and go to sleep around 11:00.
Thanks so much to L. for sharing a bit of her life as a working mom! Readers, what's your biggest takeaway from L's week as a BigLaw mom in Chicago? (After taking another look at what she had written, she later added, "Ha, that was such a slow week. I billed way more the last two weeks! A good reminder of how boom-and-bust transactional biglaw is.")